Amrita Keerti Puraskar
Service, though selfless, should be duly recognised and encouraged. If the knowledge, wisdom and talent of those who serve society are ignored and left to languish, it is society's loss. In order to prevent such tragedy, the Mata Amritanandamayi Math has conferred its annual Amrita Keerti Award since 2001, distinguishing people who have made significant contributions to Indian Culture and the Vedic tradition. The goal is to assist the preservation of the ancient and enduring human values of Sanatana Dharma.
The award comprises a cash prize of Rs. 123,456, an idol of Saraswati Devi crafted by the artist Nambootiri and a Certificate of Commendation from the MAM. The awards are presented each year on Amma's birthday.
The cash prize rendered through this award is intended to support the recipients, helping them to be financially in the position to continue to dedicate their life to their noble pursuits, and thereby foster the cultural heritage of India.
Two categories of people are eligible to receive the award: those engaged in writing original, in-depth studies of India's spiritual texts and those dedicated to constructive social or national service. Sannyasins are not eligible for the award, as their service is part of their spiritual practices.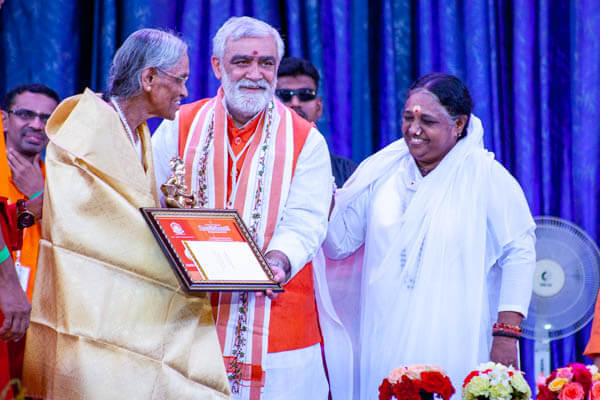 Amrita Keerti award recepients since its inception:
The recipients says:
Dr M Lakshmi Kumari

I feel like a squirrel who took part in the Rama Setu construction and got Sri Ram's blessings as his reward.
Amritakeerti Recipient – 2017
C Radha Krishnan

This award is not mine; it is for translating the great text of the Bhagavad-Gita and novel about the father of Malayalam. These works spread goodness and peace. Perhaps that is what this award should be giving here.
Amritakeerti Recipient – 2012
P Parameshwaran

For me, this is not an award; it is prasad from Amma.
Amritakeerti Recipient – 2002
Mahakavi Akkitham Achyuthan Nambootiri

I am standing in the greatest, most auspicious moment of my life. There is no greater recognition than this for me to attain.
Amritakeerti Recipient – 2004
P Narayana Kurup

"Now I have a great responsibility to uphold, and I assure you that I will do my best to live up to Amma's expectations."
Amritakeerti Recipient – 2005