Amrita Keerti Puraskar
Service, though selfless, should be duly recognised and encouraged. If the knowledge, wisdom and talent of those who serve society are ignored and left to languish, it is society's loss. In order to prevent such tragedy, the Mata Amritanandamayi Math has conferred its annual Amrita Keerti Award since 2001, distinguishing people who have made significant contributions to Indian Culture and the Vedic tradition. The goal is to assist the preservation of the ancient and enduring human values of Sanatana Dharma.
The award comprises a cash prize of Rs. 123,456, an idol of Saraswati Devi crafted by the artist Nambootiri and a Certificate of Commendation from the MAM. The awards are presented each year on Amma's birthday.
The cash prize rendered through this award is intended to support the recipients, helping them to be financially in the position to continue to dedicate their life to their noble pursuits, and thereby foster the cultural heritage of India.
Two categories of people are eligible to receive the award: those engaged in writing original, in-depth studies of India's spiritual texts and those dedicated to constructive social or national service. Sannyasins are not eligible for the award, as their service is part of their spiritual practices.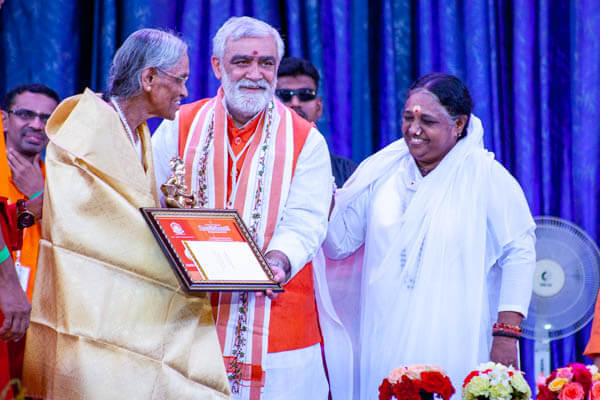 Amrita Keerti award recepients since its inception: 2019 – Vattaparambil Gopinathan Pillai 2018 – KB Sreedevi 2017 – Dr M Lakshmi Kumari 2016 – Ambalappuzha Gopakumar 2015 – Muthukulam Sreedharanr 2014 – S Rameshan Nair 2013 – Manoj Das (National Award) 2013 – Turavoor Viswambharan 2012 – C. Radhakrishnan 2011 – M.P. Veerendra Kumar 2010 – Prof. NP Unni 2009 – Prof. K.V. Dev 2008 – Prof. R. Vasudevan Potti 2007 – Paravur Sreedharan Tantri 2006 – Smt. Pratibha Ray (National Award) 2005 – P. Narayana Kurup 2004 – Mahakavi Akkitham Achyuthan Nambootiri 2003 – Dr. Shankar Abhyankar (National Award) 2003 – Prof. Harihara Shastri 2002 – P. Parameshwaran 2001 – Acharya Narendra Bhushan
The recipients says: