The 2016 Amritakeerti Puraskar was bestowed upon Malayalam writer Sri. Ambalapuzha Gopakumar for his noteworthy contributions to spiritual, philosophical and cultural literature. The Governor of Kerala, Justice P Sathasivam, gave the 2016 Amrita Keerti Puraskar to Sri. Ambalapuzha Gopakumar in Amma's presence.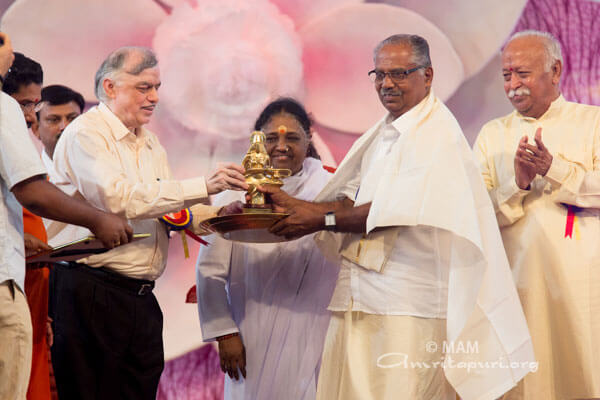 The Amritakeerti Puraskar—which has been awarded annually since 2001 to individuals making outstanding contributions in the fields of spirituality, philosophy, science and literature—comes with a cash prize of Rs. 1,23,456, a statuette of Saraswati Devi created by renowned sculptor Namboodiri, and a citation from the Mata Amritanandamayi Math.
Sri. Ambalapuzha Gopakumar was presented with his awards on September 27th, 2016, in Amritapuri, as part of Amma's 63rd Birthday Celebrations.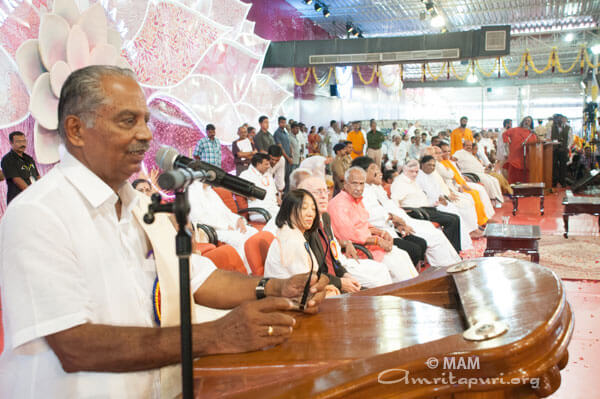 Sri. Ambalapuzha Gopakumar currently serves as president of the Ambalapuzha Kshethra Vikasana Trust and as a director board member of the Samastha Kerala Sahithya Parishat, Kochi. He is also the chief editor of Sreevatsam, a spiritual and cultural magazine. He holds a PhD in Malayalam and has served as a professor at Sanatana Dharma College, Alappuzha, for more than 30 years.
He has received numerous awards, including: the Prof. Kozhissreri Balaraman Award for Literature, 2011; the Narayeeyam Puraskaram for Spiritual Contribution, 2012; the State Award of Balasahithya Institute, Thiruvananthapuram, 2013; the Ekatha Award for Literature from Sharja, 2014; the Venmani Award for Poetry from Aluva, 2015; the Karuvatta Chandran Award for Literature, 2015; the Vasudeva Puraskaram from Ambalapuzha Temple, 2015; and the Janmasthami Puraskara, Balasamskara Kendram, 2016.