Each year on Amma's birthday, Mata Amritanandamayi Math inaugurates new charities, expands existing ones and releases a number of new publications. There was a formal public function for this as part of the birthday celebrations.
Many dignitaries were there for the function. They include: His Excellency Sri. K. Sankaranarayanan, the Governor of Maharashtra; Sri. Vilasrao Deshmukh, Honourable Union Minister for Science & Technology and Earth Sciences; Sri. K.C. Venugopal, Honourable Union Minister of State for Power; Sri. Vishnupada Rai, MP, Andaman Islands; Sri. N. Peethambara Kurup, MP, Kollam; Philipose Mar Chrysostam, the senior Metropolitan Bishop of the Mar Thoma Church; Swami Prakashananda, Head of Sivagiri Ashram; Swami Pranavananda Teerthapada, Head of Panmana Ashram; Sheikh Aly N'Daw, the President of the International Sufi School in Senegal; Sri. M.P. Veerendrakumar, Managing Director of Mathrubhumi; and Sri. O. Rajagopal, former minister, amongst others.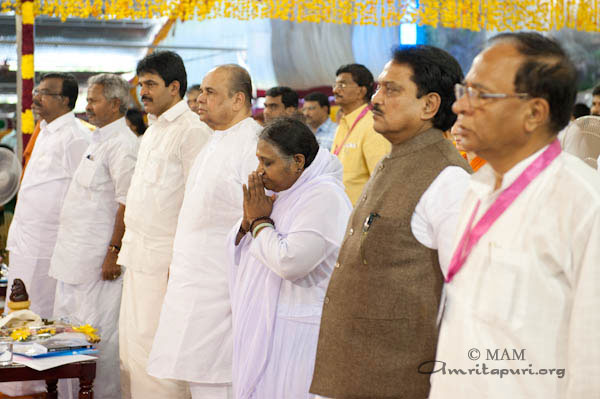 Swami Amritaswarupananda formally welcomed all of them.
"For most people, birthdays are a holiday—a day we stop everything and allow the world to worship us. We become 'king for a day.' Our spouse and children do special things for us. We get presents. A feast is prepared. Perhaps we don't even go to work. We stay home and relax. Very often, if someone asks us to help them on this day, we say, 'Please, not today. It's my birthday.' But for Amma, this is yet another day to selflessly serve the world, just as she does seven every other day." said in his welcome speech.
Two new projects
Two new projects were lauched on this occasion. Free Tuition Program by Sri. Vilasrao Deshmukh, the Honorable Union Minister for Science & Technology and Earth Sciences and Amrita Santvanam by His Excellency K.Sankaranarayanan, the Governor of Maharashtra.
Ongoing projects
Amrita Nidhi pension program – providing widows and other disadvantaged individuals with monthly pension checks was extended to another 5,000 beneficiaries throughout India. The checks were officially presented to 25 beneficiaries by Sri. N. Peethambara Kurup, MP.
As part of AmritaSREE Suraksha – a joint venture between the Mata Amritanandamayi Math and the Life Insurance Corporation of India – 3,000 scholarships to children of members of AmritaSREE (Self Reliance Economic Empowerment) self-help groups were distributed by Sri. K.C. Venugopal, Honorable Union Minister of State for Power.
The Vidyamritam Scholarship Program, was also extended. Sri. Vilasrao Deshmukh distributed the scholarships to 25 students, representing the 5,000 new beneficiaries.
Book releases:
MAM Mission Trusts following books was released by Sheyl Al N'Daw, the President of the International School of Sufis, Senegal.
Amrita Darshanam, a collection of Amma's sayings
Nectar of Wisdom, a compilation of teachings by Amma
Varaprasadam, a collection of poetry by Swami Turiyamritananda Puri
Blesssed Life by Swami Ramakrishnananda Puri (Malayalam translation)
Torrential Love by Swamini Krishnamrita Prana (Malayalam translation)
Random Reflections, a collection of poetry by Evoor G. Madhavan Nair
Amrita Books was launched on Amma's 57th birthday in order to ensure books of about Amma and her teachings are available in books stores in India. Its four books were released on this occasion.
Amma: The Life of Sri Mata Amritanandamayi Devi – in Hindi, Kannada and Telugu.
From Amma's Heart – in Kannada
Matruvani Birthday Souvenir by Swami Prakashananda, the head of Sivagiri Ashram.
Amma's Advice: Ancient Wisdom for Modern Times, a coffee-table book by Konarak publications  by His Grace Dr. Philipose Mar Chrysostam Mar Thoma Metropolitan.
Amrita Keerti
This year's Amrita Keerti Puraskar went to Sri. Veerendrakumar, the managing director of Mathrubhumi, in recognition of his philosophical travel memoir, Haimavatabhuvil.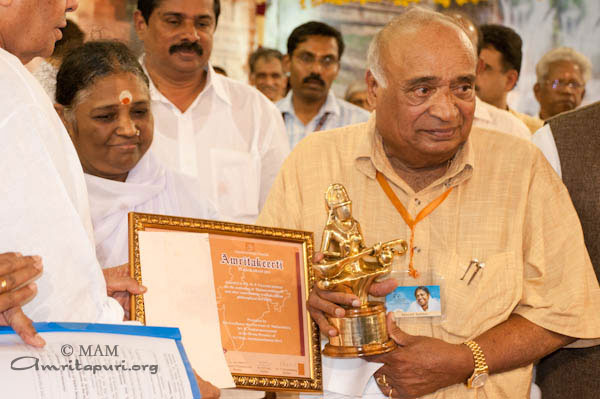 Veerendrakumar was presented with the customary cash award of Rs. 1,23,456, a statuette created by sculptor Namboodiri, as well as a citation were presented by His Excellency Sri. K. Sankaranarayanan, the Governor of Maharashtra.
After receiving the award, Veerendrakumar addressed the gathering, saying that Amma has symbolized the true message of unconditional compassion. He also said that he considers the award as a blessing, not just an award, and considers himself a very fortunate person for receiving it upon Amma's birthday. "India exists not on its military strength. It has survived through the centuries by drawing strength and inspiration from its spiritually-oriented culture. Through Amma's spiritual guidance and acts of charity transcending national borders she helped humanity experience love, mercy and grace in a world of hard realities."
In his address, Venugopal said, "Amritapuri has been transformed into a center not for just spiritual pursuits, but has become a nerve-centre for human welfare across the world—be it natural calamities across the world or a wide range of programs aimed at the poor, cutting across barriers of color, caste and creed."
Amma also conducted a mass marriage for the underprivileged couples.
-Tulasi