We try to help you to get connected with Amma in many ways.
Please make use of these services. We welcome your innovative ideas.
Visit Amritapuri
If you are planning a visit to Amritapuri, then let us know ahead. International visitors and Indian Visitors are kindly requested to register online here. You can book a pickup taxi too.
Write to Amma
Offer your thoughts and prayers to Amma…
Downloads
Download eBooks of Embracing the World in different languages.
Amritavani
Subscribe to our free eMail newsletter to get alerts and updates of Amma via GoogleGroups.
Apps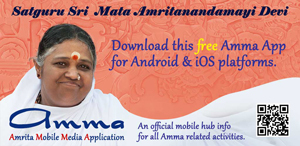 AMMA Application
Download this Amrita Mobile Media Application (AMMA) free for Android and iOS mobile phones. This app works as a hub of all Amrita initiatives with ringtones, wallpapers, photos, bhajan lyrics, and more.
Bhagavad Gita
Download this Bhagavad Gita Malayalam free for android mobile phones. This app helps you to read and understand Gita on a daily basis.
Social Networks
Telegram– Amma channels in different Indian languages. Subscribe
Websites
Amrita University
Amrita Vishwa Vidyapeetham – campuses across India
Amrita World
Updates on all of Amma's initiatives
Amma USA
Information about Amma's North American tours, activities of Amma's American ashrams and Satsang groups.
Amma Europe
Information about Amma's European tours and programs with Amma's disciples throughout the year.
Amrita Hospitals
Amrita Institute of Medical Sciences – committed to affordable quality care.
Indian Languages
Amma's teachings in many Indian languages.
Embracing the World
An overview of Amma's charitable activities
Swachha Bharatam (Clean India)
The campaign aimed at cleaning India's public places and national highways.
Amrita SeRVe
Teaching villagers the skills they need to live in communities that are prosperous and self-reliant.
IAM Meditation
Integrated Amrita Meditation Technique®
AYUDH India
Indian youth organization
AYUDH Europe
European youth organization
AYUDH Americas
American youth organization
Gitamritam
Learn Bhagavad Gita in a creative way. Camps for children, teenagers, professionals and married couples.
Amritavarsham.org
Website for Amma's birthday celebrations, Amritavarsham50 in 2003.
Ashram Diary
Articles, thoughts and poems by ashram residents and devotees about their life with Amma in Amritapuri.
---
Browsing Tips: Did you know?
Thought of the Moment: Each time you visit the Motherpage, you will receive a new "Thought of the Moment", whatever Amma wants to convey.
Tags: Tags are like a keyword help you find pages which have something in common. They are created manually along with each post.
Category: By clicking on a category above each post, you will be able to see all the news posted in that category.
Sitemap: Sitemap will give you the list of all the posts according to the date it is posted.
Translate: To read web pages into European languages, copy the page into Google Translate.