27 September, Amritapuri – AmritaVarsham66
In connection with Amma's 66th Birthday celebrations Amritakeerti Puraskaram were presented to Vattapparambil Gopinathan Pillai for 2019 and K B Sreedevi for 2018. The Award was presented by Sri. Ashwini Kumar Choubey, Minister of State for Health & Family Welfare, Govt. of India in Amma's presence.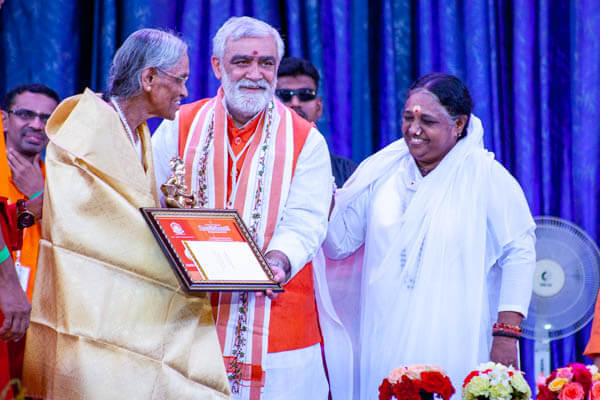 K B Sreedevi , the most loved storyteller from Thrissur, started writing at the age of thirteen. Yugantharangal is her first work. Sreedevi, who practised Karnatic Music and Veena recital, is one among the few women who forayed into literature from a Namboothiri family. The customs and the lifestyle of Namboothri families formed the major theme of her works. She has published many stories and novels through publications like Ezhuthachan Masika, Jayakeralam and Mathrubhumi.
She has to her credit various awards like Kerala State Chalachitra Puraskaram, Kunkumam Award, Janmashtami Puraskaram and Purogamana Sahitya Samiti Puraskaram.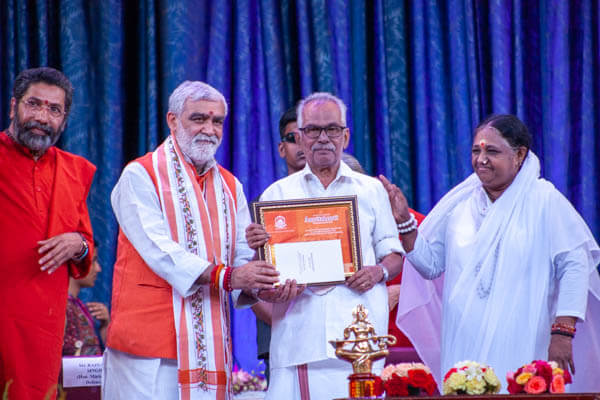 Gopinathan Pillai, who is well known as a teacher, translator, editor as well as a writer, is currently the faculty member of Institute of Management in Govenment. He is also in the Administrative Board of Kerala Kalamandalam Deemed University, Kerala Bhasha Institute and Asan Smaraka Cultural Centre.
He has authored various books which include Kathakali Praveshika, Paryayanikhandu, Malayala Vyakaranavum Rachanayum and had done studies on Aattakathakals Rukmini Swayamvaram, Ravanavijayam , Nalacharitham and Kumaran Asan's works. He was also the Editor of Sabdatharavali and Kerala Bhashanigandu. He had been bestowed with various honours like Kathakali Pradeshika Award, M K Nair Puraskaram and Attukal Devi Trust Puraskaram.