In conjunction with the 60th birthday celebrations of Sri Mata Amritanandamayi Devi, the 2013 Amritakeerti Puraskar National Award will be bestowed upon renowned English and Oriya writer Prof. Manoj Das.
The Kerala State Level award will be bestowed upon eminent writer, scholar and orator Prof. Thuravoor Viswambharan.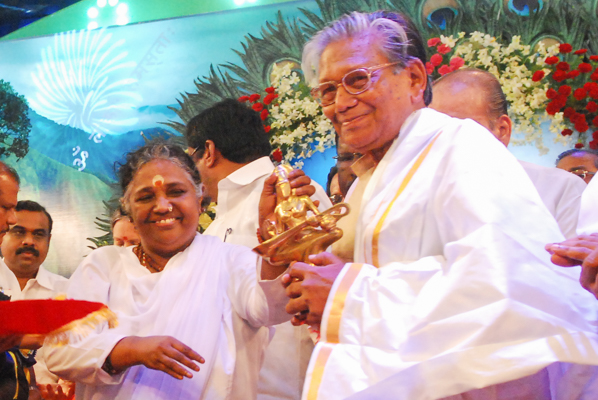 Manoj Das
The announcement was made on 17th September 2013 by Amritakeerti Puraskar Committee Member Swami Amritaswarupananda Puri, Vice-Chairman of the Mata Amritanandamayi Math (MAM).
The awards—which have been awarded annually since 2001—to individuals who have made outstanding contributions in the fields of spirituality, philosophy, science or literature—come with a cash prize of Rs. 1,23,456, a statuette of Saraswati Devi created by renowned sculptor Namboodiri and a citation from MAM. Both men will be presented with their awards on September 27th, 2013, in Amritapuri, during Amritavarsham60: The 60th Birthday Celebrations of Sri Mata Amritanandamayi Devi.
In the opinion of the Amritakeerti Puraskar Committee, Prof. Manoj Das is one of India's greatest living English and Oriya writers, with more than 14 volumes of his work in the form being published over the years. A resident of the Aurobindo Ashram in Pondicherry since 1963, a spiritual and mystical element flows as a strong undercurrent to Manoj Das' writings.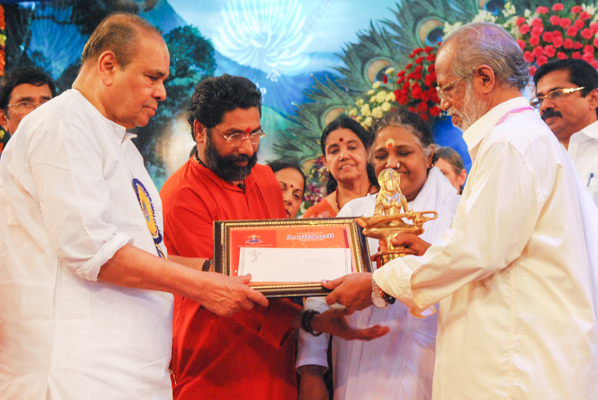 Turavoor Viswambharan
He is also an acclaimed novelist and poet, and has published travelogues, children's books, written regular columns for various Indian newspapers and monthlies, and served as editor for esteemed journals. He also travelled to London and Edinburgh to do original research into Sri Aurobindo's early work in the Indian freedom struggle, publishing them in the 1972 work Sri Aurobindo in the First Decade of the Century.
Prof. Manoj Das has previously been honoured with the President's Padmasri Award in 2001. He has also been honoured with the Sri Aurobindo Puraskas (Kolkata), the Sahitya Akademi Award (1972), the Orissa Sahitya Akademi Award (twice), the Sarala Award, the Sahitya Bharati Award, the 1998 BAPASI (Book-sellers And Publishers Association of South India) Award as the best writer in English in South India, Rotary's "For the Sake of Honours," and India's premier award for literature, the Saraswati Samman, as well as Utkal Ratna from Odisha's oldest literary institution the Utkal Sahitya Samaj, among others.
In the opinion of the Amritakeerti Puraskar committee, Prof. Viswambharan's critical evaluation of the Mahabharata in the light of world philosophy have helped spread Indian culture and solidify the epic's place in the cannon of world literature.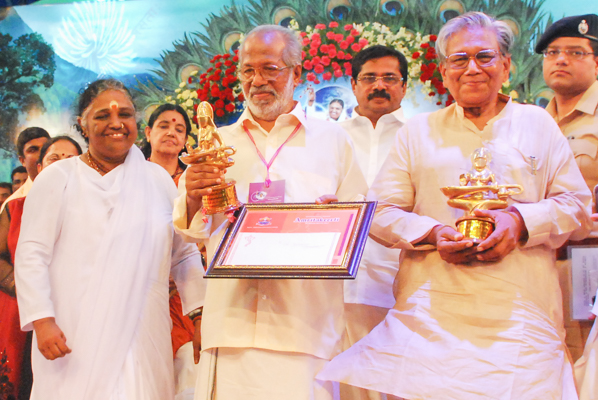 His book Bharata Darsanam Punarvayana presents the story and philosophy of the Mahabharata while at the same time providing a critical study and evaluation in the light of world philosophy.
Prof. Viswambharan has also presented lucid and compelling arguments as to why views presented by a slew of famous Indianologists—both from the West and from India itself—are flawed.
His discussion on the Mahabharata on the Amrita Television programme Bharata Darsanam now comprises more than 2,500 episodes.