23 Sep 2010, Amriapuri
MAM first began presenting the Amrita Keerti Puraskar in 2001.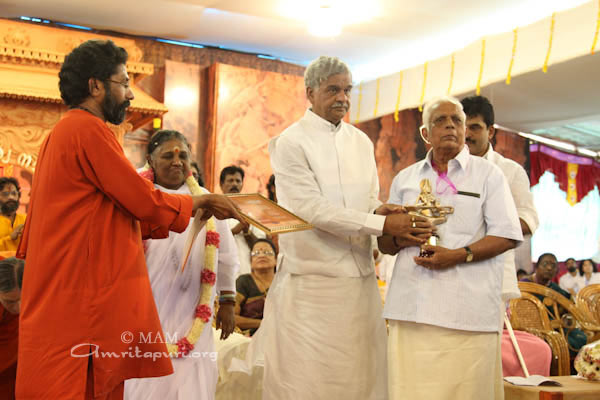 Dr. N.P. Unni, former Vice-Chancellor of the Sri Sankaracharya University of Sanskrit, Kalady, Kerala (1996 – 2000), has made vast and important contributions to the cultural, spiritual and philosophical literature of India. He has further contributed to the preservation of India's culture through his role as professor and lecturer in various governmental and non-governmental educational institutions, including Sri Sankaracharya University of Sanskrit in Kalady and the University of Kerala, among others.
Dr. Unni is currently the author of 38 books in English, including critical analyses and commentaries of Sanskrit drama, scriptures and kshetra tantra vidya, as well as translations of classical Sanskrit literature and commentary. He has also translated numerous upanishads and puranas into Malayalam. He has contributed more than 150 papers to Indological journals, etc., and as served as a PhD advisor and mentor to dozens of Indian and foreign scholars.