On 27th September, the birthday of Sri Mata Amritanandamayi Devi, Sri. P. Narayana Kurup was awarded the Amrita Keerti Puraskar for his meritorious contributions to spiritual and philosophical literature. Kurup is an award-winning poet and literary critic and is a recipient of numerous awards, including the Ollur Award.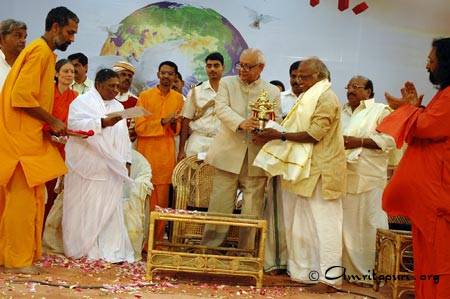 His Excellency the Governor of Kerala, Sri. R.L. Bhatia, handed over the award, which consists of a cash prize of Rs. 123,456, a handcrafted idol Saraswati Devi and a Certificate of Commendation from the Mata Amritanandamayi Math.
The Math first began presenting the Amrita Keerti Award in 2001 "to seek out and honour those deserving personalities who have helped to promote a healthy society through the preservation of the ancient and enduring human values of Sanatana Dharma."
The cash prize rendered through this award is intended to support the recipients, helping them to be financially in the position to continue to dedicate their life to their noble pursuits, and thereby foster the cultural heritage of India.