2nd Nov 2015, Kochi
The Amrita Hospital hand transplant team won the prestigious British Medical Journal award 2015 for the category of best surgical team of South Asia. These awards have been instituted to honour the contributions of various teams in this region in different aspects of medical care delivery. The BMJ awards has been considered as the "Oscars" in health delivery management.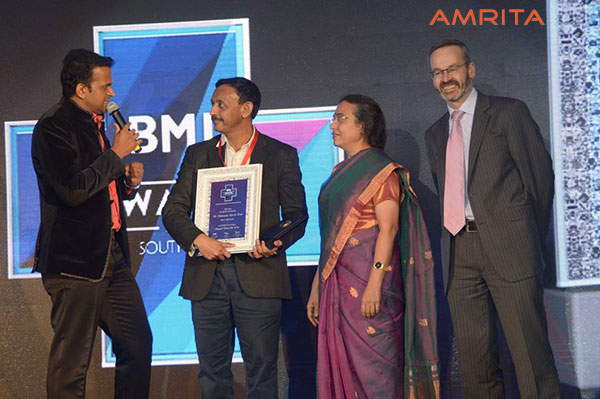 Dr Subramania Iyer received the award on behalf of the entire team.
The awards are given after rigorous evaluation done in three stages by a reputed national and international jury team. There were more than 1000 entries for the various awards this year.
The Amrita team won the award for the effort put in to successfully conduct the first and second double hand transplants in South Asia. The meticulous planning and the immense dedication of the entire team to achieve this demonstrating the capability of an Indian centre to match the international standards was appreciated.
It is the second time in consecutive years Amrita Institute is bagging these awards. The Amrita paediatric cardiology team won the award last year for their leadership activities in this field.