20-24 Nov, Detroit, Michigan – America Yatra 2015
Amma held two days of public programs followed by a Retreat and Devi Bhava at the Detroit Marriott Hotel at the Renaissance Center in Detroit.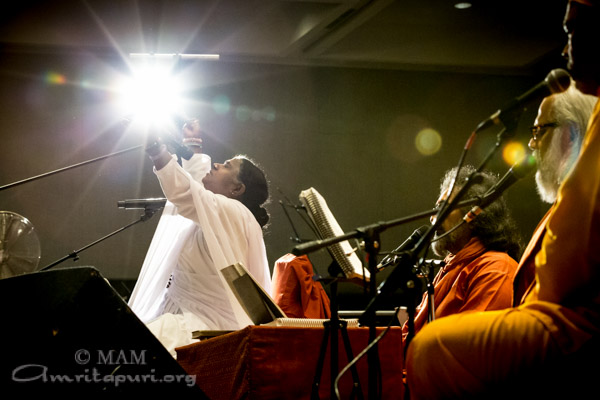 The first evening program ended at 3:30am with Amma dancing to a traditional Baduga melody. At the end of the second full day program, Amma sang "Aya He Sahara Jagam" and, just before leaving the stage, danced once again to the delight of everyone.
During the retreat, regional satsangs presented various dance performances, one of which sang the praises of Lord Ganesh. Another group performed a traditional Hebrew dance to a song which included the sanskrit prayer 'Lokah Samastah Sukino Bhavantu'. Children from the regional balakendra also sang and performed traditional Indian dances.
A light dusting of snow fell overnight and on the day off, many children ventured outside in the cold breeze to gather what snow they could to make snow balls.
On the final evening, more than 50 children sat on stage near Amma as she led everyone in the Atma Puja ceremony for World Peace.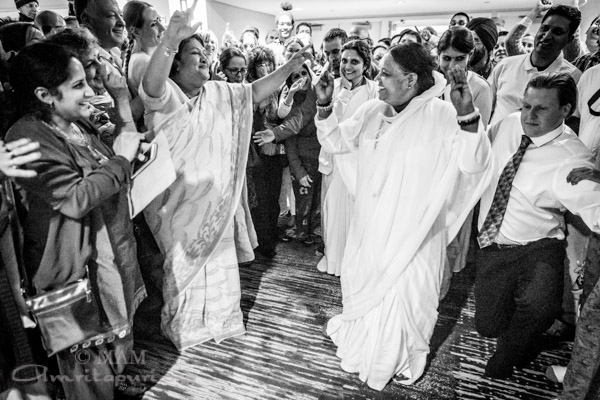 Amma wore a beautiful soft pink lavender and sky blue sari for Devi Bhava. The programs ended just after 8am the next day when Amma left the stage and departed for her return flight to Amritapuri.
-Kannadi