Super Speciality Hospital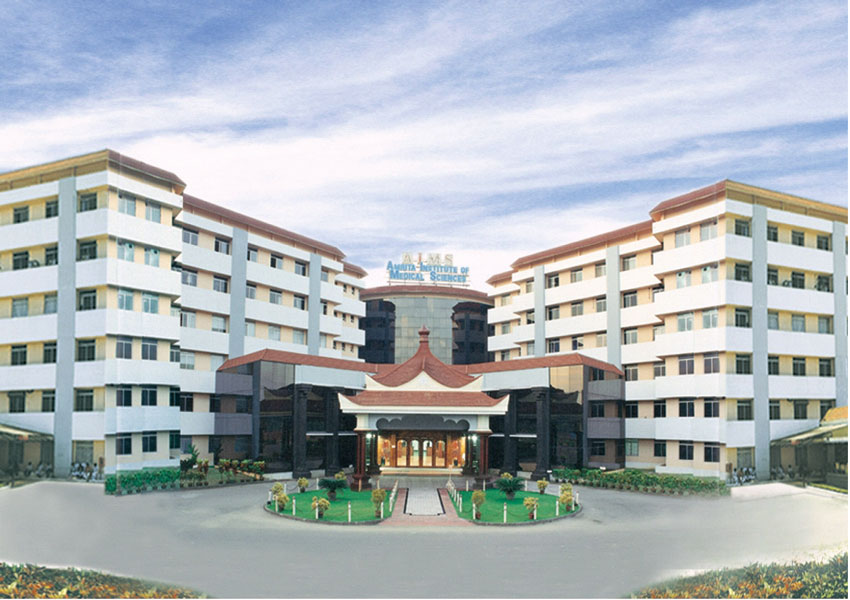 In the short twelve years since its inception in 1998, Amrita Institute of Medical Sciences (AIMS) has grown from a 100 bed specialty hospital to a 1400 bed super-specialty tertiary-care, health science campus integrated to a medical college hospital. It is now standing as one of the leading high-tech hospitals in Asia. Amrita Institute may be one of the rare places where science meets life; here, the advancement of science and technology is available to the common man at an affordable price. Amrita Institute offers a total and comprehensive health solutions comparable to the best hospitals in the world.
A not-for-profit organisation, dedicated to establishing excellence in healthcare through quality preventive care, medical education and research. Amrita lives up to the World Health Organization's new 'universalism', which calls for providing the simplest and most basic quality healthcare for all.
As of December 2020, Amrita Hospital and the allied medical institutions of the Mata Amritanandamayi Math have provided completely free treatment to 5.1 million patients and subsidized care to another 300,000 patients — a total of Rs. 764 crore [$104 million US] in charitable medical care. Amrita offers cost-effective and comprehensive healthcare solutions comparable to the best hospitals in the world.
Facilities
It has 25 modern operating theatres, 210 well equipped intensive-care beds, a fully computerized and networked Hospital Information System (HIS), a fully digital radiology department, a 24/7 telemedicine service and a NABL accredited clinical laboratory, 50 clinical departments, and a dozen para-clinical departments. A full range of primary and specialty care medical services enables cross-specialty consultation which assures outstanding treatment for each patient.
Infrastructure
The massive healthcare infrastructure has over 2,78,710 sq. ft of built-up area spread over 160 acres of land. The daily patient volume is about 1400 outpatients with a 95 percent inpatient occupancy. Annual patient turnover touches an incredible figure of over 605,000 outpatients and nearly 48,600 inpatients.
Medical Education & Research
The hospital now includes the Schools of Medicine, Dentistry, Nursing and Pharmaceutical Sciences, which are part of Amrita University offering educational programmes both at graduate and post graduate levels.
The present areas of advanced clinical research include: Molecular Biology, Molecular Medicine, Nano Medicine, Inborn Disorders of Metabolism, Bio-degradable Stent, Heart Muscle Disease, Tumour Immunology, Electrical Disorders of the Heart, Non Contact Mapping and RF Ablation Studies, Atrial Fibrillation – Genesis and Management, Vulnerable Plaque Recognition and Management, Studies on Tropical Pancreatitis & Hepatitis B.
Many ongoing projects are approved and supported by the Indian Council of Medical Research, the Department of Science and Technology and other national and international research bodies.
The Growth
"When we established AIMS in 1998, we started a process that has revolutionized the healthcare industry in India. Today, we are regarded as one of the largest and best academic teaching and clinical care centers in India – in terms of size, in terms of patient numbers and in terms of the complexity of care provided. However, even the best quality infrastructure is no guarantee of any quality. We see this all over the world; hospitals with some of the finest equipment and amenities offering abysmal medical service." The quality of healthcare provided is directly related to the quality of healthcare professionals at the medical center.
"The phenomenal success that we have notched up in a little over a decade is the result of the dedication, commitment and quality of our human capital – our team of physicians, surgeons and other healthcare support personnel by employing highly skilled, experienced, committed faculty and staff from all over the world, purely on merit, irrespective of bureaucratic controls and any racial, sectarian or religious bias, we have been able to deliver remarkable achievements" says Dr Prem Nair, the Medical director of Amrita.
Sharing of capabilities and exchange of information between medical centers around the world Amrita has an on going partnership with over 60 medical entities in the United States, Canada and Europe that allows us to leverage our medical and clinical expertise with the technological expertise of these centers to deliver some of the best medical solutions for our patients.
Amrita currently have a student and faculty exchange program with over 30 countries that provides a hands-on care and skills development program, using state-of-the-art simulation environment, including computer programs, mannequins and cadavers, teach skills rapidly with minimum risk of complications etc. "Our aim is to develop medical expertise that is second to none in the world and to provide the best quality – healthcare" says Dr Prem Nair.
Care with a Heart
More than ever Amrita is reaching out into the community and fulfilling its mission: "To provide outstanding and affordable medical care in a patient-friendly environment and in a spirit of compassion to all, regardless of race, caste, religion or economic condition. Charitable care to the fullest extent possible is provided to those in need."
While Amrita has expanded its departments and services, it has retained its uncompromising commitment to providing charitable care to those in need. In 2002, free in-patient treatments and major financial concessions or subsidies were extended to 62% of all patients admitted to the hospital, or 16,884 patients, while over 7,000 received free out-patient treatment. In 2001, totally free treatment was given to more than 4,000 in-patients, or more than 20% of all inpatients That same year, major financial concessions were granted to 9,945 inpatients, constituting 49% of the inpatient population.
Dr. Subramanium, Professor of Paediatrics, explains: "The difference in Amrita is the motive factor. Here we are not forced to work for a financial return for the hospital. Elsewhere I would have to do that. Here there is an ethical approach to the work. I find the staff here are very aware, responsible and good at their work. Each staff member should be like a role model for others and that is happening. There is an atmosphere of calm, even in acute emergency sections. That is very rare in a hospital.
"Patients have a very wide access to our services at very low cost. Anyone can register here for a nominal fee, and I can send patients to see another doctor very easily with no extra charge to the patients. We can't find that elsewhere. All my hopes about coming here have been confirmed."
The quality and ethical standards of Amrita have influenced other hospitals in the area to improve the quality of care, lower the cost of the services they provide, and begin reaching out to the poor.
The major speciality departments
Centre for Heart Diseases
Centre for Cancer Diseases
Centre for Digestive Diseases
Centre for Neurosciences
Centre for Orthopaedics
Centre for Plastic/Reconstructive and Microvascular Surgery
Centre for Endocrinology & Diabetes
Centre for Behavioural Sciences
Centre for Solid Organ Transplant (Kidney, Liver)
Centre for Laboratory Medicine
Centre for Medical Informatics, Multimedia- Education, Telemedicine and Digital Health
For more, visit www.amritahospital.org