18 February, Bharata Yatra 2008, Mangalore
Amma consecrated the 19th Brahmasthanam Temple in Boloor, Mangalore.
In the auspicious muhurta of Punarvasu Nakshatra occurring between 11.48 am and 1.48 pm, Amma first installed the Kalasha atop the Brahmasthanam and then the Murthi inside the sanctum sanctorum.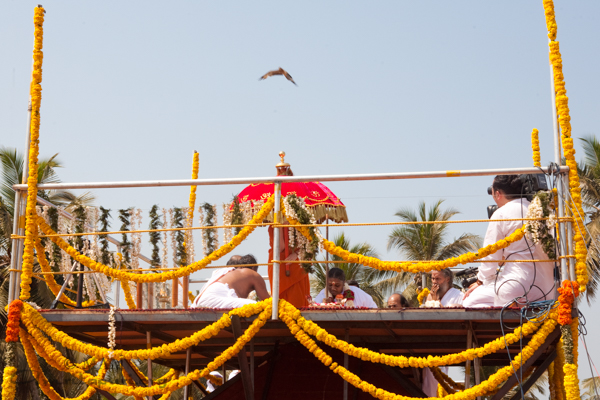 The rituals began at 11.48 with installation of Kalasha. There pots were filled with 9 different types of grains. Then Amma did Abhisekam and Arati. The eagles had already gathered earlier above temple and now one of them came down to greet Amma. The presence of eagles is considered very auspicious during a sacred ritual.
At 12.15 Amma stepped down and entered the temple. The divine rituals continued for another hour as Amma installed the sacred image followed by Abhisekas and Arati to all four faces of the Murthi after which Amma saluted all the devotees gathered to witness the historical and holy event. The atmosphere was charged with the chants of 'Om Siva Shaktyaikyaroopinye Namah". Fireworks were set of to add momentum to the installation ceremony.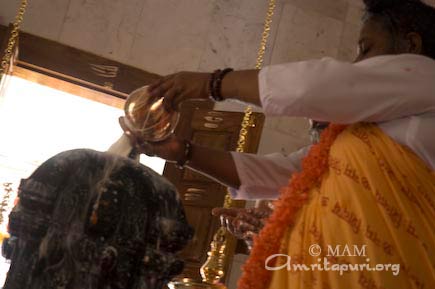 The next day Amma led thousands in the Sani Puja, a powerful puja to ease the prarabdha of people.
The temple in Mangalore is the 3rd Brahmasthanam temple in the state of Karnataka and the 19th in total. The first Temple was inaugurated by Amma in Kodungalloor in 1988.
The 3 day festival was filled with very creative cultural performances every evening by children from the Amrita Vidyalayams of Mangalore, Karwar, Davanagere.