October 3, 2023 – Amritapuri
In the presence of Amma during Amritavarsham 70, Honorable Minister of Heavy Industries, Dr. Shri Mahendra Nath Pandey, awarded the 2023 Amrita Keerti-Puraskara to Professor K.S. Radhakrishnan for his lifetime contributions to Vedic philosophy and culture.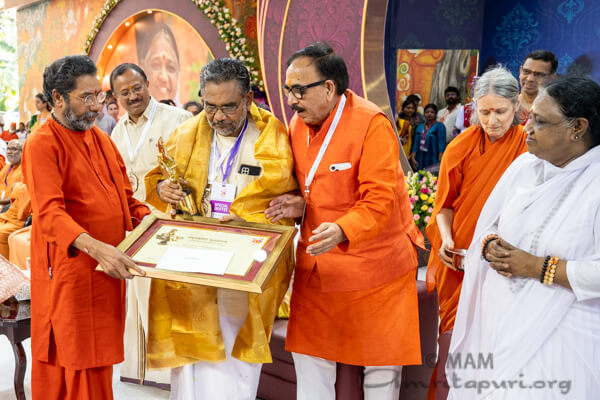 Professor Radhakrishnan is a celebrated writer, orator, academician, and philosopher, with a distinguished career that includes serving as the former Vice-Chancellor of the Sri Sankaracharya University of Sanskrit and the former Chairman of the Kerala Public Service Commission. With over two decades of postgraduate teaching experience, he specializes in Advaita Vedanta, Gandhian Studies, and the Philosophy of Science.
The Keerti-Puraskara stands as a testament to Professor Radhakrishnan's dedication to preserving and sharing timeless Vedic wisdom, honoring his profound impact on literature and culture.