October 3, 2023 – Amritapuri
The 2020 Amrita Keerti-Puraskara, the ashram's prestigious award, has been bestowed upon the eminent Indian novelist, Dr. S.L. Bhyrappa, in recognition of his remarkable lifetime achievements in the realms of Vedic philosophy and culture. Dr. Bhyrappa, celebrated as one of India's most revered literary figures, boasts an impressive literary oeuvre comprising 26 novels, five profound works delving into philosophy and aesthetics, and an illuminating autobiography.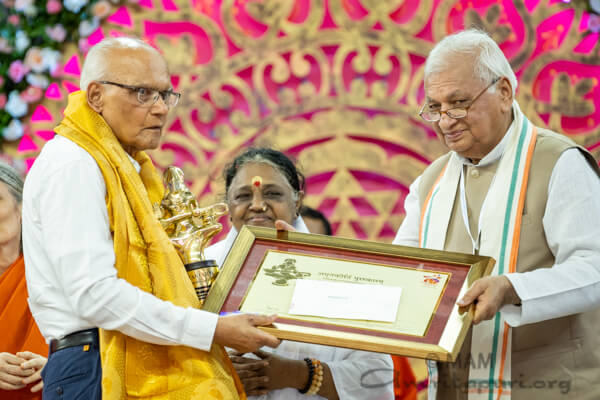 Among his illustrious literary creations, "Parva" stands as a magnum opus—a captivating reinterpretation of the epic Mahabharata. Furthermore, in 2017, Dr. Bhyrappa enriched the literary landscape with "Uttarakaand," a thought-provoking retelling of the Ramayana, narrated from the perspective of Sitadevi.
Sri. Arif Mohammed Khan, the Hon'ble Governor of Kerala, graciously presented the 2020 award to Dr. S.L. Bhyrappa in the presence of Amma during Amritavarsham 70.