October 3, 2023 – Amritapuri
The 2021 Amrita Keerti-Puraskara has been bestowed upon Acharyasri M.R. Rajesh for exceptional lifetime contributions to Vedic philosophy and culture.
In a momentous ceremony during Amritavarsham 70 in the presence of Amma, Honorable Union Minister of State for External Affairs & Parliamentary Affairs of India, Sri. V. Muraleedharan conferred the 2021 Keerti-Puraskara upon Acharyasri M.R. Rajesh. This distinguished recognition is a testament to Acharyasri Rajesh's lifelong dedication to the realms of Vedic philosophy and culture.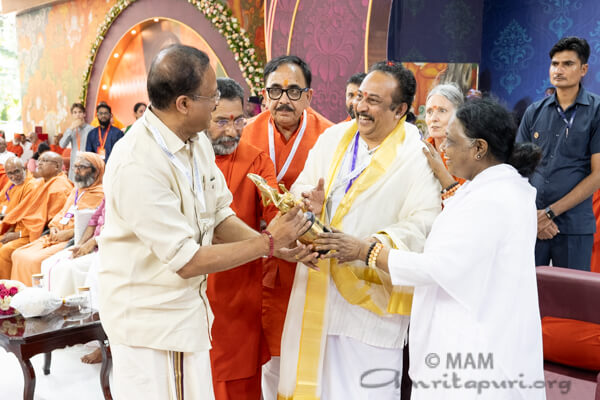 Acharyasri Rajesh, a distinguished Vedic scholar and visionary social reformer, has devoted his life to the noble cause of reinstating the splendor of the Vedic Heritage. His pioneering efforts encompass the inclusive teaching of Vedas and Vedic rituals to individuals from all walks of life, regardless of caste, religion, or gender.
This ceremony celebrated not only the achievements of Acharyasri M.R. Rajesh but also the enduring spirit of Vedic wisdom and cultural heritage that continues to inspire and unite people from diverse backgrounds.