17 & 18 October 2017
Diwali celebrations in Amritapuri
Diwali was celebrated throughout Amritapuri in many ways. In the morning, as Amma made her way to the stage for the day's darshan, she was welcomed by a group of Amma's children from Tamil Nadu, dressed in beautiful attire and holding diyas (lamps) in their hands. They chanted hymns of Lakshmi, the goddess of prosperity. That night, when the day's darshan was complete, another set of children, this time from North India, lined Amma's path, dressed in their own traditional attire and each holding a diya in their hands. Near Amma's residence, the soldiers stationed at the ashram also got to celebrate Diwali with Amma. Amma lit the lamp with them and then and sparklers, taking her sparkler and drawing playful patterns in the air, cheering Mata Rani Ki Jai and Bharat Mata Ki Jai! Before returning to her room, Amma distributed sweets to the soldiers. There were rangolis in front of Amma's room. Small and beautiful diyas decorated Amma's steps.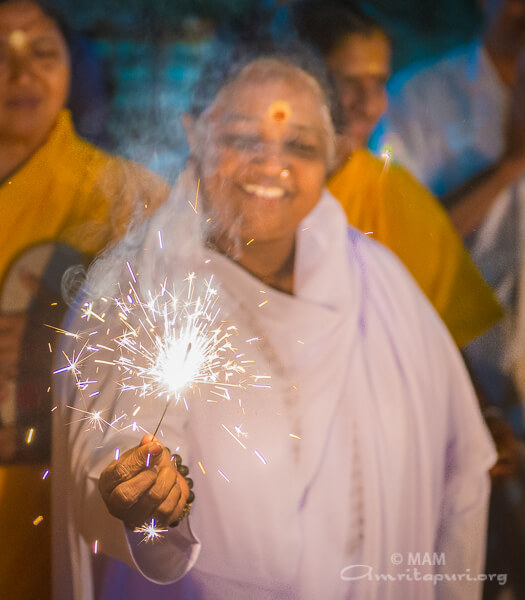 The next day, Diwali was celebrated in grand style. The staff of Amrita University and devotees stood in line to receive Amma onto the stage when Amma came for morning darshan. In the evening, at the end, while Amma was still giving darshan, the hall was cleared and filled with beautiful oil lamps. Brahmacharis chanted Sri Sukta and Vedic mantras. Amma sang two bhajans of Sri Rama, as Diwali is also the remembrance of the return of Sri Ram to Ayodhya after 14 years, gaining victory over the demon Ravana. "Deepavali (Diwali) is a celebration, a reminder – reminding us, by lighting the lamp of goodness to remove the darkness of wickedness within. Like the people of Ayodhya welcomed Sri Rama, Diwali is a reminder to invoke the divine within our heart," Amma reflected, imbuing the two days of celebrations with deep meaning and inspiration for all who participated, and for Amma's children all over the world, whose hearts were there in spirit.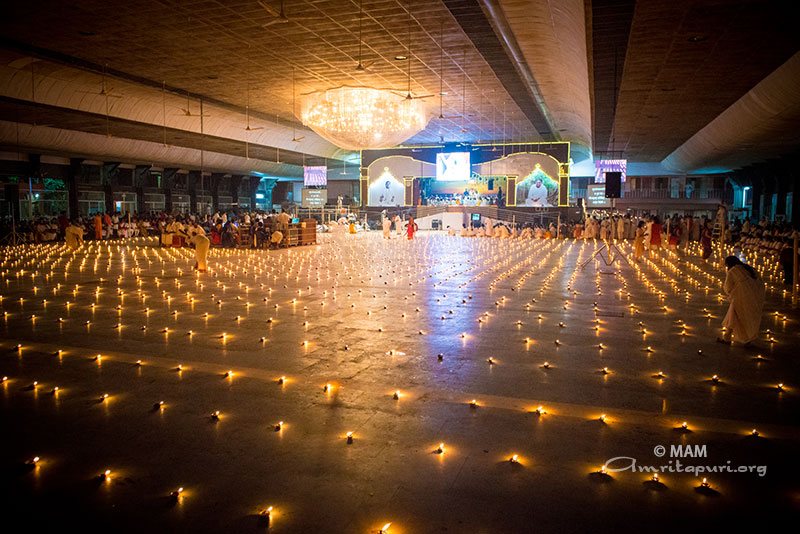 This is the first time in the last two decades that Amma was in Amritapuri for the Deepavali celebrations.
-Kannadi