9 October 2017, Amritapuri – Amritavarsham64
Monday marked the 64th birthday of Amma. The celebrations focused on extending the breadth and depth of the charitable initiatives of her ashram, the Mata Amritanandamayi Math (MAM), in areas such education, sanitation, housing and healthcare for the economically challenged.
"Amma is not interested in celebrating her birthday," said Amma. "Yet, I am grateful that during this occasion some good initiatives can come out that shine some small light of love into the darkness of at least a few lives. When we do something to alleviate the sorrow of others, in that moment we are able to create at least a small wave of celebration—both internally and externally—in those people's lives."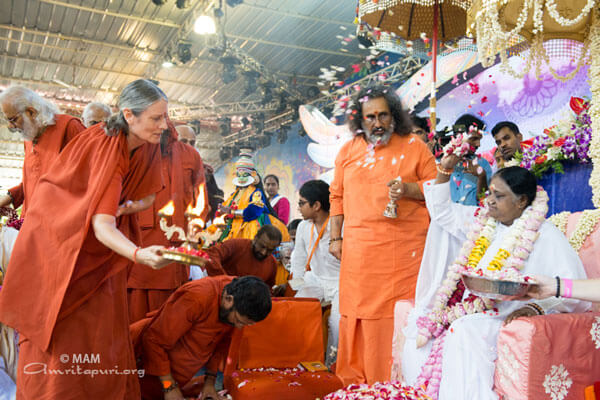 New projects inaugurated and continued old ones included:
New:-
1. The provision of running water in Pandori, Jammu
2. Training of more than 1,000 tribals in digital literacy
3. Free homes for 37 impoverished Keralites
4. Construction of 8,000 toilets across the state.
Continued:
5. Amrita Keerti Puraskar to Dr M Lakshmi Kumari (a statue of Goddess Saraswati and Rs.123456/-
6. Gave away the first of what will be 1,000 e-Cycles—bicycles capable of generating and storing electricity via a dynamo and solar panel by which they can power their home.
7. Gave certificates to graduates of MAM's health-worker-training programme and tailoring-and-embroidery classes.
8. Distributed saris to 5-lakh women enrolled in various humanitarian programmes of MAM, with Amma herself handing out the initial few hundred saris.
9. Amma performing the wedding of 54 couples who could not afford a traditional wedding without the aid of the MAM, which provided all gold jewellery and wedding garments, etc.

Seated aside Amma on the dais were dozens of political, social and spiritual leaders from within and without Kerala, all of whom inaugurated various charitable projects by the MAM. These included:
Spiritual leaders included His Grace, the Most Rev. Dr. Philipose Mar Chrysostam, Mar Thoma Valiya Metropolitan; Swami Prakashananda, Head of Sivagiri Math, and Swami Gururethnam Jnana Thapaswi, Organizing Secretary of Santhigiri Ashram.
Political and social leaders included: Prof. P.J. Kurien, Deputy Chairman of the Rajya Sabha; Sri. Jual Oram, Honourable Union Minister for Tribal Affairs; Sri. Y.S. Chowdry, Honourable Union Minister of State for Science and Technology & Earth Sciences; Sri. Satyapal Singh, Honourable Minister of State for HRD (Higher Education); Sri. K.C. Venugopal, MP & All India Congress Committee General Secretary & MP; Sri. Shyam Jaju, National Vice President of Bharatiya Janata Party; Sri. Pramodh Madhwaraj, Honourable Minister for Fisheries, Youth Empowerment & Sport (Karnataka State); Sri. Ramesh Chennithala, Leader of the Opposition, Kerala Legislative Assembly; Sri. Oommen Chandy, former Honourable Chief Minister of Kerala; Sri. M.K. Raghavan, MP; Sri. O. Rajagopal, MLA; Sri. Thiruvanchoor Radhakrishnan, MLA; Sri. P.C. George, MLA; Sri. R. Ramachandran, MLA; Sri. V.S. Sivakumar, MLA; Sri. Prasad Gaonkar, MLA Goa; Sri. Suresh Gopi, MP Rajya Sabha; Sri. P.K. Krishnadas, BJP, National Executive Committee Member; Sri. R. Chandresekharan, President of INTUC; and Smt. Jagadamba Teacher, Kollam District Panchayat President.
Amma was also garlanded upon her arrival by Padmsri Sobhana, who had also performed a Bharatanaytam dance to the delight of devotees.
Amma's head disciple, Swami Amritaswarupananda Puri, the Vice-Chairman of the Mata Amritanandamayi Math, offered Sri Guru Pada Puja, and Amma was then garlanded by all of her sannyasin disciples. This was followed by Amma's annual birthday address, in which Amma stressed the importance of holding onto one's culture and respect for Nature.
The remainder of the Amritavarsham64 Celebrations comprised of Amma blessing the thousands upon thousands of devotees who had come with her motherly embrace.
The villagers, members of 13 Karayogams came and offered Amma Purnakumbaham, as a mark of respect.
During Amma's darshan time there were a lot of cultural program by the students of Amrita Institutions. Folk music and dances added a variety to the performance. But the Baduagas came and rocked the hall with their traditional dance & music. Amma enjoyed a lot.
The pracharaks of Matruvani who enrolled the maximum number of subscribers also received prizes from Amma. Each year on Amma's birthday, this darshan continues well into next morning the following day. This year also was not different. At the close of the formal program for her 64th birthday celebration, Amma remained on the stage long enough to embrace each person who had attended the event, one by one and the Darshan ended at 10.20 am.