18-20 Oct, Paris – Europe Yatra 2015
The fourth stop on Amma's 2015 European Yatra was in Cergy-Pontoise (near Paris, France). Every year on this tour some of the biggest crowds turn out in this city and this year was no different. Massive crowds came every day and filled the large hall awaiting their chance to spend a few moments in Amma's arms. Amongst those who came to meet Amma were Academy Award-winning film director Claude Lelouch and renowned actress Elsa Zylberstein.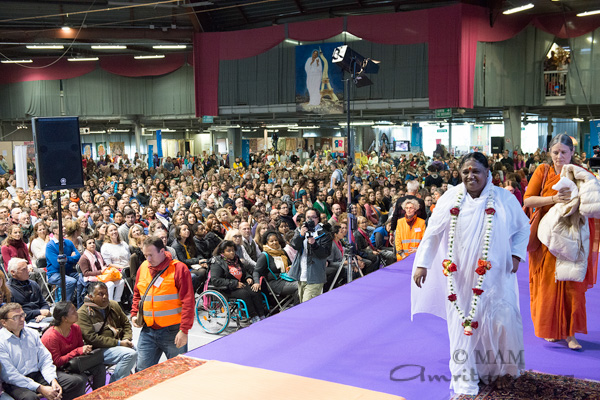 On the 2nd evening of programs, a new book of Amma's quotations entitled "Pearls of Wisdom," published by Paris-based publisher Les Editions Points was released. The French edition is entitled, "Tout Est En Vous."
Releasing the book, Mr. Lelouch remarked, "This book is a pure marvel – to be read over the course of a year; every day you'll savor Amma's teachings, her observations, her generosity and her infinite goodness." He continued, "Amma is probably the person who has touched my life the most. [Meeting Amma] has given me even more pleasure than winning the Oscars or the Palme d'Or."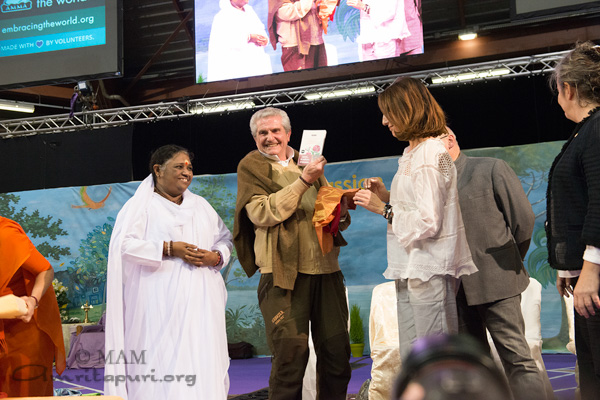 Mr. Lelouch's upcoming film "Un Plus Une" co-stars acclaimed actor Jean Dujardin and Ms. Zylberstein and features Amma as herself, when the lead characters'journey culminates in a meeting with Amma.
Elsa Zylberstein also explained how she was transformed by her encounter with Amma: "This meeting was beyond the extraordinary. It carried a message of tolerance, faith and understanding. In the world we live in today, I believe it's vital to focus our attention in this way and this is what Amma transmits. She has been with me ever since I met her."
All three days Amma gave darshan all day and all night into the early hours of following morning. The final program ended at 10am the day after it began, with Amma sitting until she had embraced each and every last person that came for the program.