5 Feb 2015, Amritapuri
Amma received renowned French star Jean Dujardin and legendary French film Director Claude Lelouch, along with actors Elsa Zylberstein and Alice Pol. They were visiting Amritapuri​ to film scenes for Lelouch's upcoming movie "Un Plus Une".
About the film, Mr. Lelouch said, "In today's world, Amma is the symbol of love for others. In my coming movie, I wish to honour her and show the whole world who she is. Amma gives meaning to life. It is so beautiful to see her do what she does."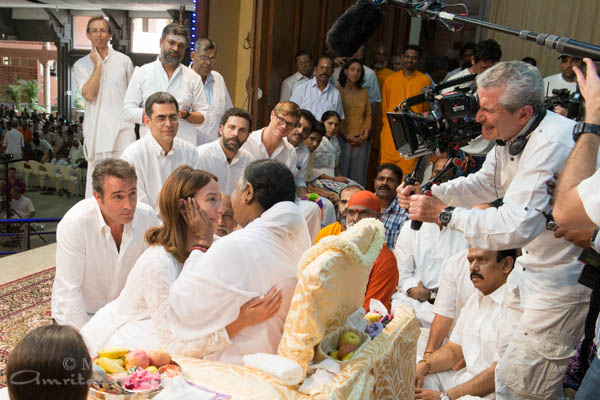 Mr. Lelouch has directed nearly 50 feature-length films and is considered one of France's greatest filmmakers. His 1966 film "Un Homme et Une Femme won both an Oscar for Best Foreign Language Film and the Palme d'Or award at the Cannes Film Festival. He had met Amma in Amritapuri twice before in 2014.
Mr. Dujardin, the main actor in the upcoming film, won the Best Actor award at both the 2012 Academy Awards and the 2011 Cannes Film Festival for his starring role in "The Artist."
About meeting Amma, Mr. Dujardin shared, "I enjoyed observing the faces of people when they came to her and when they are around her. Fascinating! I am very moved by this encounter."
Mrs. Zylberstein, who will be the main female actor, shared after meeting Amma, "I want to come back to see her. I think she touched something very deep in me, and I feel it will stay there."
"I am deeply moved by my meeting with Amma. She is nothing but love, offering, understanding and humility. A message of wisdom, tolerance and of pure and powerful love. One feels better about oneself when interacting with her. She opens our soul towards the best within us. She has illuminated and nourished me. It was magical and simple. It was a gift from the sky. I feel blessed and protected."
Mrs. Alice Pol shared, "It was so special being in Amma's arms. I am looking forward to come to her programs when she visits Europe."
The film crew consisted of 82 members including actors, videographers and technicians. They spent an entire day at the ashram shooting various scenes at different locations.
The film "Un Plus Une" (One plus One) is expected to be released later this year.
– Dass