27 Sep 2011, Amritapuri
Amrita Santvanam, a project to train 10,000 women to be home nurses where MAM will provide the six-month training through Amrita network of medical institutions. Aside from training, room-and-board as well as a stipend will be provided to each trainee.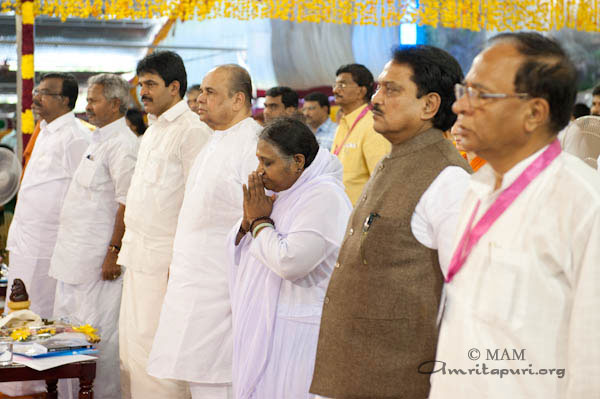 Inaugurating the program during Amma's 58th Birthday celebration, His Excellency K.Sankaranarayanan, the Governor of Maharashtra said "Amma has now become a mother for the world as a whole. People from various parts of the globe have come for Amma's blessings. It is difficult to conceive of any human being who has the capacity to love millions of people, except Amma. No one in the world has launched a project like Amrita Santvanam, to create a cadre of 10,000 home nurses for providing care to the old and sick who are left alone by their children."
One of the distressing health trends that has emerged in the country is an increase in the number of aged people who are sick and disabled, but have nobody within the family to take care of them at home. This alarming social phenomenon has prompted MAM to launch a pioneering initiative to create a cadre of 10,000 home nurses in Kerala of which 1000
persons will undergo professional training immediately.