Amma's 58th Birthday celebrations
27 Sep 2011, Amritapuri
Free Tuition Program was launched by MAM, to provide free online tuition to All-India college students. Through this program many students can benefit from a few good teachers. Program will be available to all college students free of cost.
This was inaugurated by Sri. Vilasrao Deshmukh, the Honorable Union Minister for Science & Technology and Earth Sciences during Amma's 58th birthday celebrations.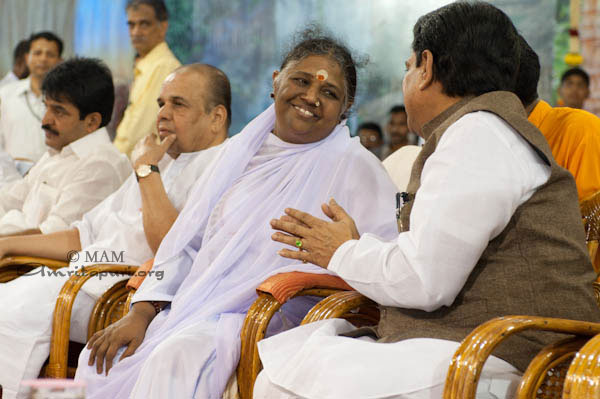 Sri. Vilasrao Deshmukh recalled his first meeting with Amma, in 2007 in Mumbai, when he was chief minister of Maharashtra, whereupon he sought Amma's help with the farmer-suicide epidemic that was ravishing his state. Reflecting upon the impact of Amma's subsequent farmer-oriented welfare programs, he said, "Amma has created new hope in the farmers." He also acknowledged the exceptional work done by MAM following the 2004 Indian Ocean tsunami, saying, "Amma's house construction is much better than the construction of the government. In Andaman, the people would say, "We want houses from Amma, not from the government. Furthermore, Amma is there to look after the interests of the disadvantaged in any part of the world." I am impressed with the sprawling network of Amrita professional institutions especially in many specialty areas, and the government would be only glad to help such institutions."
The pilot programme will be launched first in Kerala and later will be extended to other States. Initial market survey conducted at colleges in Kerala found that students are highly interested in learning career opportunities in their respective fields and enhancing their soft skills. On that basis, to begin with, Amrita University has decided to start off free tuition program covering career awareness. Subsequently, other subjects will be added.
The online program is supported by the Ministry of Human Resources Development's (MHRD) National Mission on Education through Information and Communication Technology (NME-ICT) initiative.
This free tuition programme will be transmitted through Amrita University's award winning E-Learning platform, A-VIEW (Amrita Virtual Interactive E-Learning World).
visit www.onlinegurukul.in/
– Tulasi