Amrita Nidhi – financial aid for life
At a time when children are forgetting their responsibilities to their elderly parents, denying them basic necessities such as food and shelter, Amma's compassion has come as a welcome and much needed respite in the form of a monthly pension scheme for impoverished women.
Pensions for widows started in 1998. The physically and mentally challenged and others living below the poverty line as well receiving the financial benefit.
Nation-wide, 59,000 qualified people are now receiving Amrita Nidhi pensions who are struggling to make ends meet.
Recognizing that disability or the loss of a family member can consign those in the developing world to a lifetime of hardship, our pensions have no expiration date—they are given for life.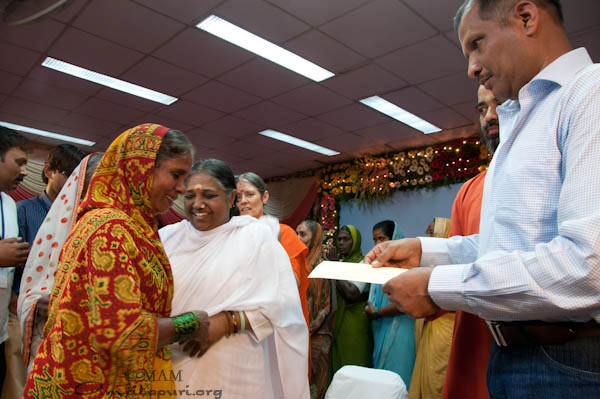 "So many needy women do not qualify for government pensions"
In the first three months project, the Amrita Nidhi co-ordinator, Sarada, processed 10,000 applications. She was assisted by volunteers who helped her process hundreds of letters everyday. Sarada and her team spent more than one year going through application forms and meeting the applicants.
Sarada says, "Amma knows that most families here rely only on the sea and the coconut trees for their livelihood. Fishing is very hard for the men folk, they often become disabled or sick due to the hard life. Shore fishing is seasonal. Every year there are famines. The families cannot really make a living. I've seen the plight of people while doing this job. The men have fallen from coconut trees, have damaged hips or have disc problems, or they have TB or cancer. It's very pitiable. Sometimes, the women bring their sick husband's picture when they apply. Often they can't write and so we help them. We manually prepare lists of all the applicants in every district of Kerala. There are thousands of applicants. Our branch ashrams also send them to us. The problem is that so many women do not qualify for government pensions. Government schemes are limited to specific occupations like agriculture, and coir work or they are only for handicapped people. Our scheme fulfills an important need."