17 – 18 Feb, Bengaluru, Karnataka – Bharata Yatra 2010
The two-day brahmasthanam festival in Bangalore came to an end on Friday morning. In spite of the programs being held on working days, thousands came for Amma's darshan in this IT city.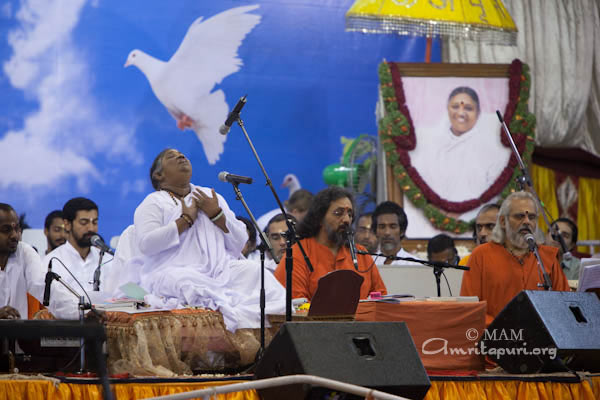 On the first day of the program, Amma handed over a symbolic key for 100 houses built for the Karnataka flood victims to the Chief Minister, B.S. Yeddyurappa.
Amrita Vidyalayam children presented the cultural programs on the first and the Amrita University students on the second day. The Amrita Vidyalayam children performed various dances, including some that displayed Karnataka folklore, called 'Yakshagana.' The university students enacted a wonderful two-hour musical drama on festivals celebrated in India.
Amma sang numerous newly tuned Kannada bhajans in the programs and she gave instruction for the manasa puja in the Kannada language, much to the delight of the devotees.
Upon the request of a blind devotee who came for darshan, Amma sang a few bhajans in Telugu while she was giving darshan.
Having showered happiness and love on the children of Bangalore, she will now go on to Hyderabad for the next program.