February 17 – Bengaluru, Bharata Yatra 2010 `
The Chief Minister of Karnataka, BS Yeddyurappa, was on hand today to receive the symbolic key of the first 100 houses built by MAM for the 2009 flood victims. Upon receiving the key from Amma, the Chief Minister in turn handed it over to the deputy commissioner of the Raichur district. The ashram is planning to build a total of 2000 houses in Karnataka. Earlier the Ashram had announced 50 crores for the rehabilitation of the flood-affected area.
After handing over the key, the Chief Minister addressed the packed gathering on the Ashram grounds and said, "For people like me in public life and people living in urban areas with life's tensions, Amma has come to shower Her Love. All over the world, people wait for Amma's arrival and Darshan like the proverbial chataka birds waiting for the rain."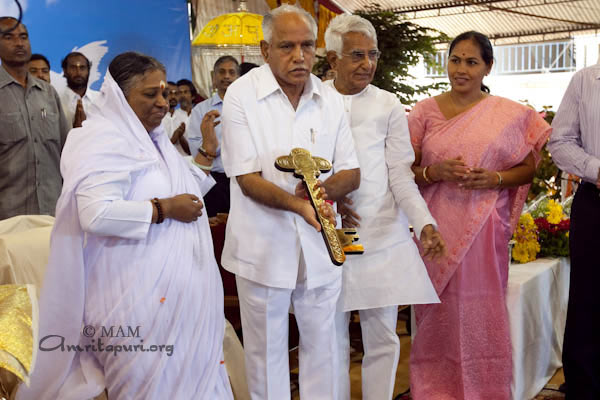 The Chief Minister said that the flood-affected areas have been severely damaged; millions of acres of crops have been destroyed, and more than 100,000 houses have been affected. He commended Amma on setting an example of how to react to a crisis and how honored he felt to have the opportunity to meet Amma.
The Chief Minister shared with everyone how the MAM's involvement with the government came about. 'On 15th January MAM entered into an MOU (memorandum of understanding) with the government. And within 20 days, Amma has completed 100 houses and the key has been handed over to me. I am grateful to Amma. This will inspire other donors to complete projects with the same zeal and urgency.'
Prior to coming to the stage. the Chief Minister had an opportunity to meet with Amma privately. In that meeting the local MLA, Miss Shobha Karandlaje, proposed that Amma set up a multi speciality hospital.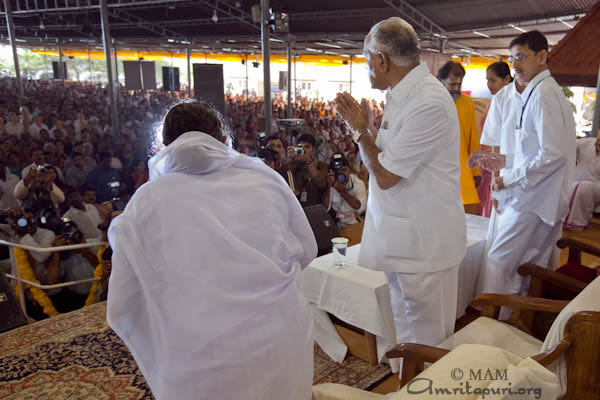 The Chief Minister ended his address by requesting AMMA to visit the flood affected areas and console the affected.
–Kannadi