27 Oct 2009, Bangalore, Karnataka
Amma Tuesday announced that the Ashram will spend Rs. 50 crore (10.68M USD / 7.2M Euro approx.) for the rehabilitation of the flood-hit people in Andhra Pradesh and Karnataka. Br. Abhayaamrita Chaitanya conveyed this in a press meet held at the Mata Amritanandamayi Math in Bangalore. Now Amma is Paris, as part of her annual Europe Yatra.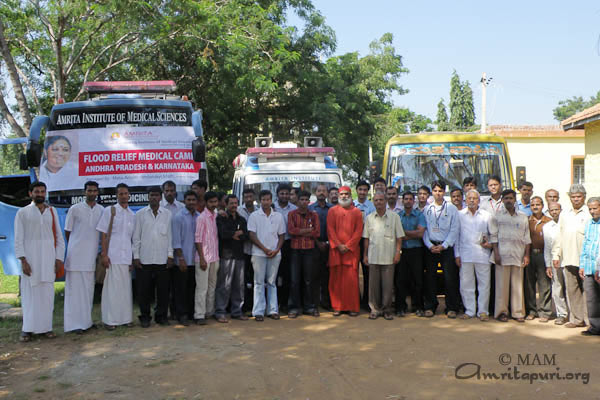 The Mata Amritanandamayi Math has taken up relief work in Karnataka and Andhra Pradesh following the recent floods since 15 days.
A 37 memebr team of Brahmacharis, devotees and a medical team which include five doctors supported by a telemedicine van and an ambulance – are  already in the relief work in Bijapur, Bagalkot and Belgaum districts of Karnataka.
A team of 12 doctors and paramedics  are involved in the extensive relief work  of MAM in Kurnool and Mehaboobnagar districts of Andhra Pradesh.
In both these states, food, blankets, bed sheets, clothes and medicine have been distributed free to the victims.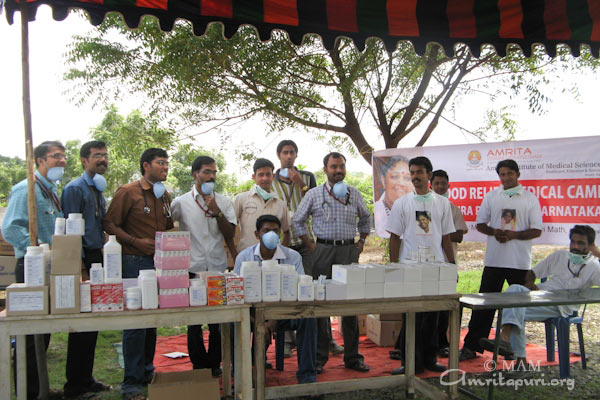 Talking to the media persons Br. Abhayamrita said "the details of the villages where future relief activities will be taken up shall be decided after discussion with the government authorities."
You may recollect that the MAM had carried out commendable relief and rehabilitation activities after the Gujarat earthquake of 2001, the 2004 Tsunami that struck the coast of South India and Sri Lanka, the Kashmir earthquake of 2005, the Bihar floods of 2008 and West Bengal floods in 2009.