13-14 Feb, Mangalore, Karnataka – Bharata Yatra 2010
Amma conducted two days of programs in Mangalore as part of the annual brahmasthanam festival. The programs were held on the premises of Amrita Vidyalayam, Mangalore. Boys and girls of the school welcomed Amma to the stage, dressed in traditional costumes, playing hand cymbals and waving fans. Some of the boys were dressed as tigers, and their dancing created a festive mood.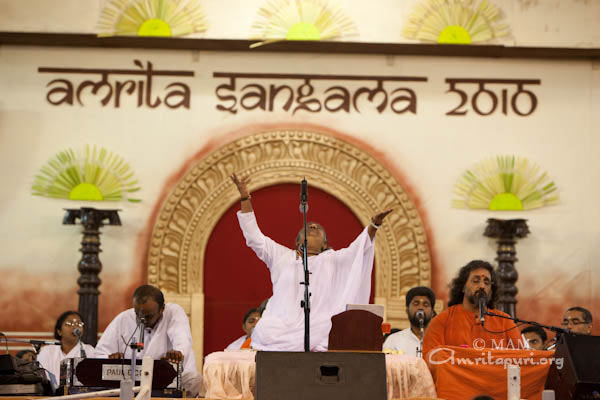 Each time Amma walked to the stage she was greeted by devotees dressed in the different traditional style of 'Tulu Nadu.' The stage was beautifully decorated with palm leaves and traditional artform images like Teyyam and Yakshagana.
Amma led the manasa puja in the native language, Kannada, much to the delight of the local devotees. Many new bhajans in Kannada, Konkoni, and Tulu were sung by Amma.
For the evening function, dignitary J. Krishna Palemar, Hon. Minister for Ecology, Environment, Ports, and Inland water transport helped to distribute free scholarships to students as part of the Vidyamritam scholarship scheme. He shared the dais with dignitary Dr. Subroto Chatterjee, Director of Johns Hopkins Medical University, Maryland, USA. J. Krishna Palemar praised how Amma is spreading the Indian culture all around the world. He said, 'after Swami Vivekananda, Amma is the one who is spreading Hinduism around the globe.'
As part of the Amrita SREE self-help group, tailoring machines were given to members of the garmenting unit. Wheelchairs were also distributed to the physically handicapped.
– Das