16-18 Nov, Palau d'Esports, Granollers, Barcelona Area, Spain – Europe Yatra 2019
Granollers was the last stop of Amma's 2019 European Tour. People from all over Spain and throughout the rest of Europe had gathered to see Amma one last time before she left for the United States.
Over the course of three days, the stadium was permeated with a festival-like feeling as the devotees poured through the doors and into Amma's arms. The devotees were also treated to resplendent cultural performances like flamenco dance, and soul-stirring traditional Spanish songs.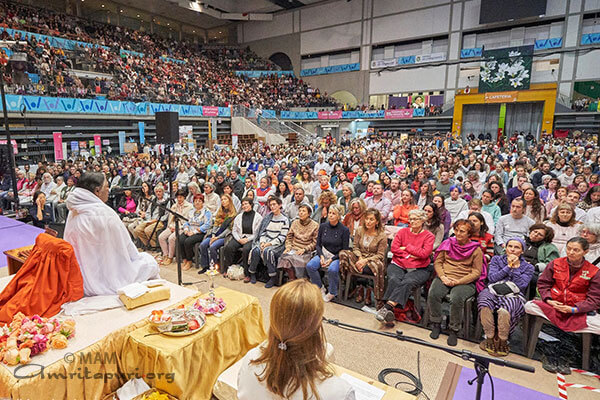 Amma was welcomed to Spain by Ms. Alba Barnusell, on behalf of the Mayor of Granollers, Mr. Madan Singh Bhandari, Deputy Chief of Mission, Embassy of India in Madrid, and renowned Catalan pianist Ms. Sira Hernandez.
Deputy Chief of Mission Ms. Bhandari spoke to the assembled crowd: "Amma, you are in true sense a living Ambassador of India. It is fascinating to see that you provide beautiful insights into the pressing issues of the world, like poverty and women rights. And your affinity to embrace everyone without asking about their sect or nationality. shows the values of the 'Sarva Dharma Samabhava' which it is integral to the Indian ethos. Thank you Amma for spreading the beautiful message that India has for the world. I am truly, truly happy to be here."
Ms. Hernandez exhorted the crowd to recognize the precious opportunity in front of them: "We are truly in front of Devi, a being who has achieved the highest spiritual level. As a musician, I must say that Amma is a great Master of music. As she tells us, music or devotional singing is one of the most sacred practices for spiritual upliftment. Amma is the highest spiritual being that I've met in my whole life, and maybe the best musician I have ever encountered, and a great, great Master."
As part of the formal program, 10 young refugees were given scholarships from Embracing the World. Amma gave each of the refugees their first scholarship check.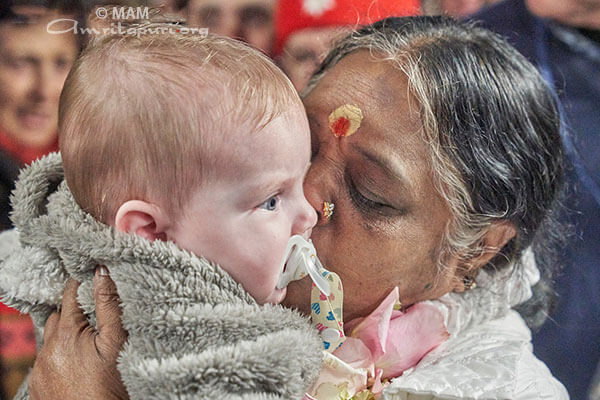 Amma encouraged everyone to laugh together saying: "Seriousness is a disease and we should try to give that up and allow our selves to laugh more. Let us clear away the mental dirt of hatred and jealousy and awaken positive thoughts. If we can do this, we will be able to see newness and beauty everywhere and discover joy in that. Laughing the way we did — from our hearts — is the best way to open our hearts and experience joy."
Amma's final darshan of the European Tour went throughout the night and well into the following day, concluding only at 11 in the morning. At the close of the program, Amma came to the front of the stage and showered flowers on each person as they passed in front of her – her way of worshipping God within each of us. Just as at the start of the program, it was as if a sea of humanity was passing in front of Amma. Along with the flower petals, the feeling of Amma's Grace and Love was palpable, showering down not only on the people of Barcelona but of all those who had passed through the doors of the program venues and into Amma's arms throughout the tour. Ms. Hernandez' words from the previous day reverberated: "We are truly in front of Devi."