21-25 Nov, Los Angeles, California – America Yatra 2019
Amma held two public programs, a Retreat, and Devi Bhava at the Ray Dolby Ballroom in Hollywood.
At the start of the first program, Rick Nahmias, Founder and Executive Director of Food Forward, a nonprofit in Los Angeles, garlanded Amma.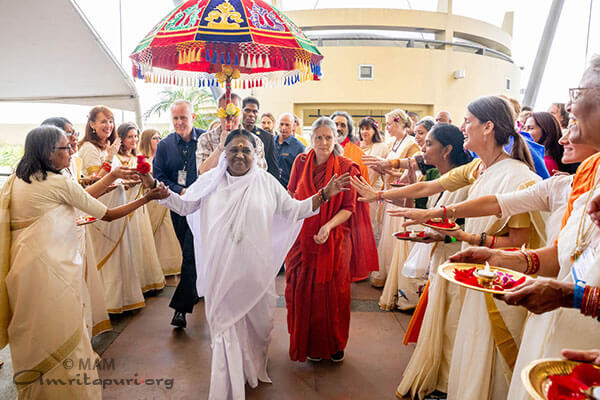 On behalf of Bill Brand, Honorable Mayor of Redondo Beach, District 1 Council Member, Mr. Nils Nehrenheim spoke to the gathered crowd and presented Amma with a letter of commendation. "We in Redondo Beach are so very grateful to be chosen to have the MA Center in our little beachside community. The building has significant cultural history and could have been something mundane if anyone else had bought it. We thank you every day that you saw the inner beauty to preserve that building. The love and cultivation that you brought bleeds over into the community every day. We notice that."
The first two public programs went well into the night with Amma finishing after midnight. At the end of each program, Amma sang a few bhajans and then requested everyone to clap their hands and laugh like a three-year-old. The crowd responded back with great laughter and joy.
In her Satsang, Amma reiterated the importance of expanding one's heart. "Amma's vision is one of forgiveness, mutual understanding and love. Only action based on such an expansive vision can carry humankind to both spiritual and material heights."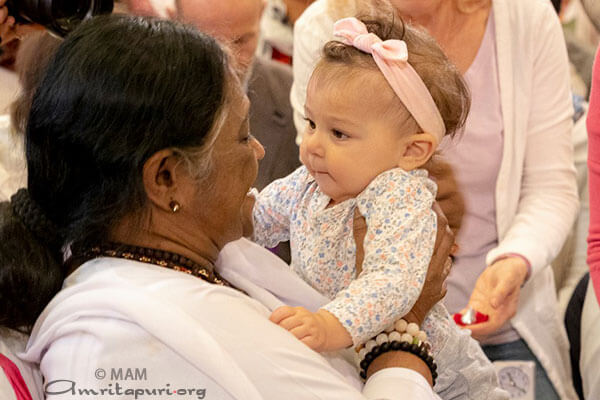 During the retreat, there were many cultural programs from various satsangs from northern and southern California. Children of San Ramon's Bala Kendra group sang bhajans, followed by a dance medly by AYUDH and Bay Area devotees. Then, in a brief ceremony perfectly fitting for Hollywood, members of the LA satsang presented Amma with their own special Academy Award for 'Mother of the Universe.'
Devi Bhava was held on the last evening and included a special prayer for world peace.
-Tulasi