13-14 Nov, Metro Areena Espoo, Espoo, Finland, – Europe Yatra 2019
People from all over Scandinavia, as well as Russia and Estonia came to meet Amma at the Espoo Metro Areena in Helsinki, Finland–– the tenth stop of her 2019 European Tour. This was the largest venue ever to host Amma's visit to Finland. Though the program was held on weekdays, the stadium seating perfectly matched the size of the crowd, affording everyone a clear view of Amma and the programs.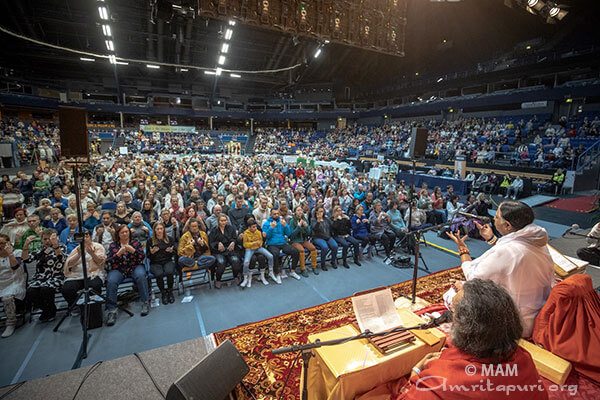 Amma was welcomed to Finland by the mayor of Espoo, Mr. Jukka Makela; member of Finnish Parliament, Ms. Tiina Elo, actress and entrepreneur Ms. Satu Silvo, and India's Acting Ambassador to Finland, Mr. Nirmal Kumar Chawdhary.
MP Elo reflected on Amma's quote: "Our love is the best protector of nature." She said, "The trees and the forests are the lungs of the globe. We have to strengthen these lungs in order to defend the climate crisis which is threatening the human race successfully. All of Amma's numerous humanitarian projects are always implemented following the principles of sustainability. We can all learn from that example. The sentence 'Our love is the best protector of nature' can be seen in all of Amma's work. Let us keep this sentence as our guideline and raise our children, grandchildren and our loved ones so that they will love nature. Thank you, Amma."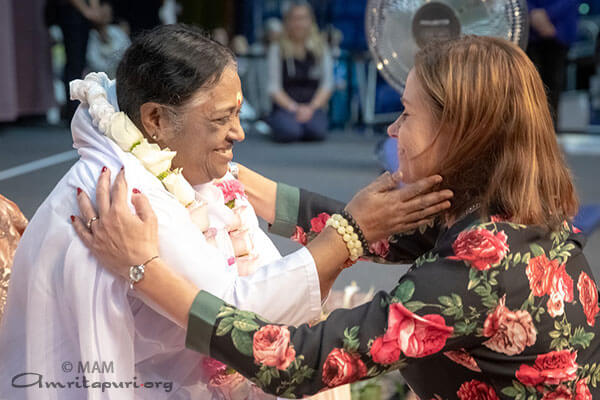 Ms. Silvo spoke about the inspiration she took from Amma's perseverance in the face of adversity. "When you look at Amma's life and its exceptional affect, one can only wonder how an uneducated woman from a small fishing village ended up becoming such a great example and role model for her millions of followers. Her starting point could not have been more challenging." After sharing some of the challenges in her own life she had overcome with the strength of the love she received from Amma, she concluded, "Despite all the difficulties, it is good to think like Amma: hardships only make us grow as we strive to make the world a better place. The thought is simple, comforting and works extremely well. Amma is a living example of this – how every one of us can make the world more compassionate and loving, it is time for higher, loving energies. Thank you, Amma."
The program was also graced with captivating musical performances by renowned Finnish singers Samuli Edelmann and Tuure Kilpelainen.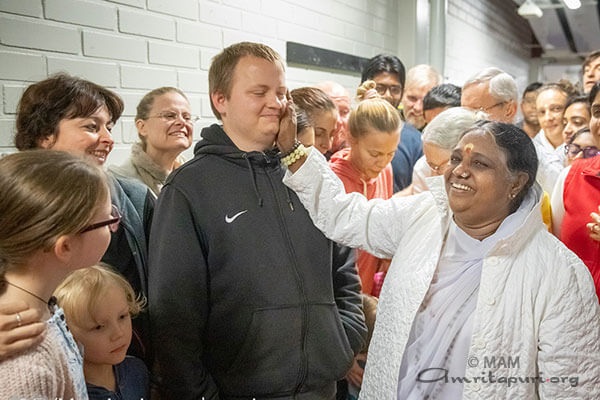 At the close of the Devi Bhava, Amma spoke informally to her Finnish children about the importance of laughter. Amma recited a few lines from the bhajan, Sirikka sonnal:
We have forgotten how to laugh
Many cry from the moment they are born until they leave this world.
Amma added a thought: "Whether we laugh or cry, days will pass by. Why not choose laughter?" With that, Amma asked her Finnish children to join her in laughter, and the two days of programs came to an end on a joyful note, the air filled with lightness and celebration.