29-30 October, Montessori Biberkor, Munich – Europe Yatra 2019
This was the second year Amma's Munich program was held at the grounds of the Montessori Biberkor. As in the previous year, the grounds were overflowing with devotees who had come from all parts of Germany to spend the two days in Amma's presence. Despite the stormy weather, devotees were undaunted in their determination to see Amma. Even more inspiring, the local volunteers cheerfully faced the rain, cold, wind and mud for hours and days on end to help park cars for those who had come to see Amma, guiding the devotees carefully into each spot on the grounds and showing them to the program hall.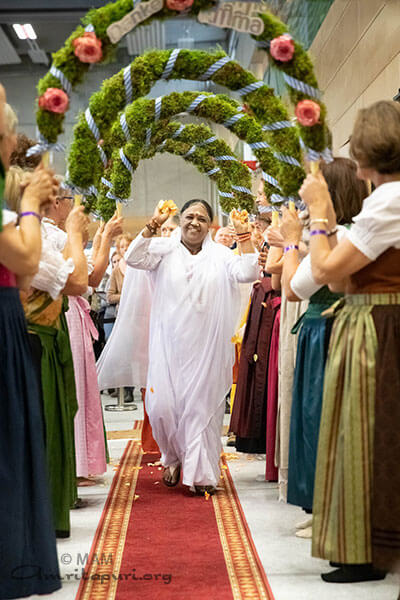 The devotees of Munich have a unique way of welcoming Amma to the hall – with a traditional Bavarian welcome, complete with traditional dress and a full complement of classical orchestral instruments. The devotees also form an archway of ornamental wreaths over Amma's path, lending a delightful local color to the program.
Amma was officially welcomed to the region by Member of Parliament Mrs. Margarete Bause and Indian Consul General Mr. Sugandh Rajaram and by Deputy Mayor of Berg am Starnberger See, Andreas Hlavaty.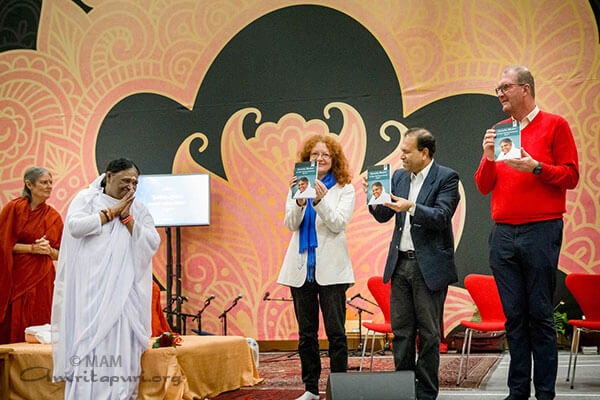 Speaking on the occasion, MP Bause reflected: "Amma's work is so infinitely valuable, especially at a time so often marked by hatred and violence, by poverty and exploitation, by division and exclusion." Addressing Amma directly, she said, "Amma, with your work you give hope. You are a role model for many people. It would be desirable for decision-makers in politics and business to take you as their role model. For me as a human rights politician, you stand for exactly what the first article of the Universal Declaration of Human Rights says: 'All human beings are born free and equal in dignity and rights.'"
Consul General Rajaram celebrated the fact that Amma was in Munich during the festival of Diwali. "What could be more fortunate than to celebrate Diwali while seeking the blessings of Amma who has been spreading the light of love and compassion throughout the world? The message of Amma is of compassion, to bring the humanity together for the peace and prosperity of the whole world, which has been the underlying essence and cause of Indian culture and heritage. This message is all the more important today when humanity is falling apart. So tonight, we are seeking blessings of Amma. Let us all work for compassion to bring the whole world together."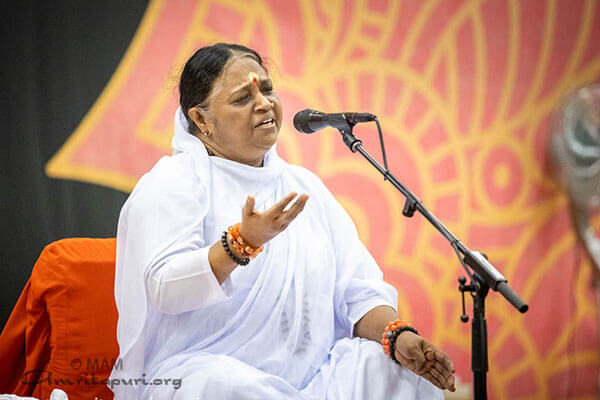 In her address to the assembled crowd, Amma reminded everyone of the impermanence of all things, and stressed the importance of responding practically by focusing on the good we can do: "In the infinite span of time, each of our lives is like a tiny bubble. It may pop any time. Our next breath may be our last. Even the next moment is not in our hands. So, without wasting time on insignificant interpersonal conflicts, we should try to do as much good as possible. In life, things rarely happen according to our plan. When our plans go astray, the only way to maintain peace and move forward is to surrender to divine will."