25-27 October, Châlons-en-Champagne, France – Europe Yatra 2019
Amma's program was held again this year at the Le Capitole event center in Chalons-en-Champagne. The massive venue is fit for the crowd, which as in years past was like a sea of humanity flowing through the doors and into Amma's arms.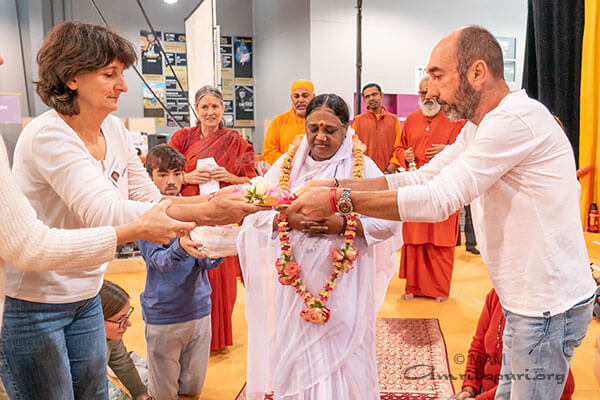 Amma was welcomed to France by Mr. Benoist Apparu, Mayor of Châlons-en-Champagne, renowned singer Mrs. Sylvie Vartan, and Nikos Aliagas, acclaimed journalist, TV presenter and photographer.
Mr. Aliagas addressed his remarks directly to Amma: "Who am I to speak to you? A dust in the cosmos certainly, a wandering soul, passing through your soil, who has come for hugging. It is perhaps the first thing we ask for in our lives, since this is the first thing we all receive when we arrive here, a simple embrace, naked of any certainty or social posture. This is also how we leave. When we are lucky we have someone who gives us a hug, a part of her soul, a part of herself. I did not come here to understand, I did not come here to learn, to see, observe. I just came as a passerby to be with you, to be here in the moment, this infinitesimal moment that lasts only a beat of a butterfly wing and that also lasts an eternity. I came to share this energy, this light that I received. I was lucky to receive it and I will never forget it. I was raised in the Greek Orthodox tradition and I remember a phrase that we learnt, that Jesus Christ said, 'Only those who have a child's eyes will be saved,' and yours, dear Amma, are the eyes of eternity. Thank you very much."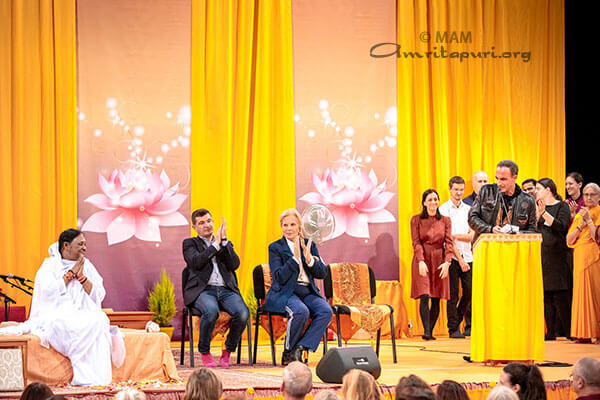 The third and final day of programs fell on Diwali, India's festival of lights. Accordingly, as Amma took the stage for the final program, her path was lined by hundreds of little children with lamps in their hand, their faces flickering with love and innocence. The stage, too was covered with lights. As Amma bowed to the assembled crowd, they exclaimed as one, "Happy Diwali Amma!" waving the lights of their mobile phones.
In return, Amma waved an oil lamp in unison with them. It was truly of festival of light, and called to mind Amma's quote, "If all of us can light the lamp of faith and love in our hearts and walk forward together, then we definitely can bring about a change in society."