15 September 2018, Amritapuri
As part of the Government of India's "Swachhta Hi Seva" Relaunch, Amma held a video conference with the Prime Minister of India, Sri Narendra Modi. Amma, Amma participated from the Amritapuri Ashram's Darshan Hall, which was overflowing with devotees, disciples and students from Amrita University.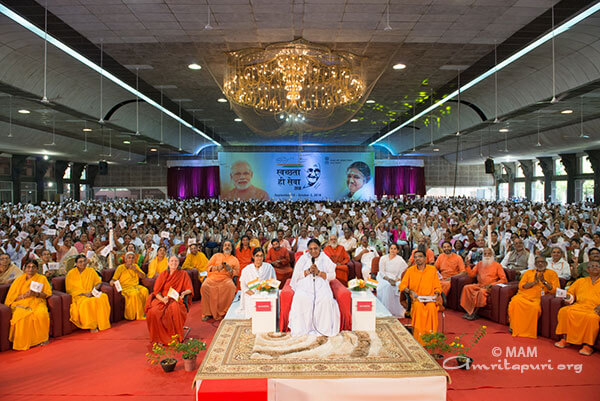 Aside from Amma, other dignitaries who participated included actor Amitabh Bachchan, cricketer Sachin Tendulkar, spiritual leader Sadhguru Jaggi Vasudev, Uttar Pradesh Chief Minister Yogi Adityanath, industrialist Ratan Tata and a dozen others.
At the Prime Minister's request, Amma spoke about the environmental protection and cleanliness efforts of the Mata Amritanandamayi Math (MAM). Amma said, "For many years now, the Mata Amritanandamayi Math has been actively involved in awareness campaigns and activities in areas such as environmental protection, cleanliness, health and water conservation. This year alone we have conducted 1,700 cleanliness drives all over the country. And we also donated Rs. 100 crores to the Swatch Bharat – Namami Gange campaign. And we have constructed 15,000 toilets in Kerala."
Amma also said the lack of toilets in rural villages remains a problem. "It's not only a matter of dignity but also of security for women, who have to go out into the night to relieve themselves. Long back, I was invited to a devotee's house. Reaching there, we found there were no toilets. The women would have to relieve themselves in the open. Staying there, we would have to restrain ourselves until late at night. So, Amma knows first hand the difficulties of such village women."
Amma also informed the PM about the Math's efforts with regards to its village adoption program. "We have adopted 101 villages throughout the nation as part of the Amrita SeRVe program. In these villages, we have not only constructed toilets but also taught the women living there how to construct toilets. This has helped them to earn a living and become self-dependent. In these villages, we are also conducting women-empowerment programs."
Amma also spoke about her ashram's invention of the reusable and biodegradable Saukhyam sanitary pad. "It's not enough to know about waste management. We also need to know how to stop producing waste," Amma said. "For example, the sanitary pads readily available in the market are not biodegradable and add to the waste in the country. Amma's ashram has created 'Saukhyam Pads,' which are made from cotton and banana fibre. They can be reused and are also biodegradable. For women in the Amrita SeRVe villages, making these pads has also become a means to earn a living."
"It is not enough if a diabetic patient takes medicine. He also needs to control his diet. Similarly, with cleanliness, awareness should start at the school level. Amma's wish is that every school and college takes up the responsibility of maintaining cleanliness for two kilometres around their campus. Waste collection is one part. But each municipality or panchayat should also have a place to segregate, recycle and dispose of trash. Otherwise, our efforts will be incomplete."
"The Math is also involved in many research activities, including the possibility of injecting mosquitos with a gene that would render them incapable of carrying dengue or malaria."
"Amma has informed all of her devotees and well-wishers all over the country to take part in this Swacchata Hi Seva campaign in a dedicated manner. Echoing the Prime Minister's call to make Indian clean and beautiful again, Amma gives the assurance that the Mata Amritanandamayi Math will always play a strong part."
Prime Minister Modi said, "Amma, Mata Amritanandamayi Devi, I am very happy that you took time to be a part of this event today, gave it your blessings. Your blessings are always a great source of strength for this movement. You have always been a beacon of hope for the poor and needy. And I have always been a recipient of your love. From the time of the 2001 Gujarat Earthquake to the present day, whenever there has been an opportunity to serve you have always been there in the forefront. You have played a very important role in making the desire to serve the poor to become more firm within me. The contribution to Swacchata Hi Seva Abhayan in the form of your blessings, time, resources and the efforts of your volunteers has given the movement great speed and energy. The training that you have given women to become masons and to construct toilets is a great example of Human Resource Development and skill-development. Women were always ahead in matters of cleanliness and sanitation. But now you have also given them skill and empowerment as well. I offer my pranams to all the efforts being rendered by you."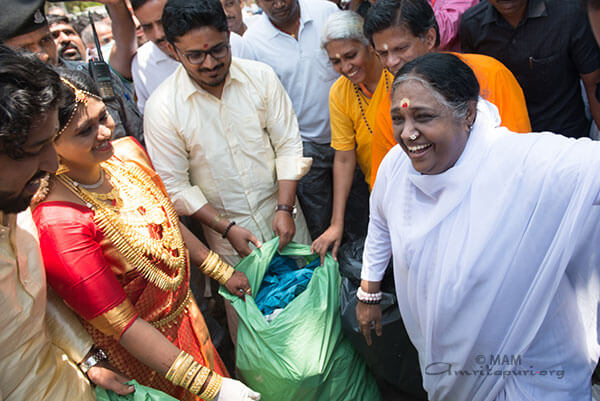 Immediately after the program, Amma and devotees went to clean a sixteen-kilometre stretch of coastal belt near the ashram. Among the devotees who participated were Durga Lekshmi & Suraj S; Mithula & Dhanush, the couples who were going to get married today. They were in their traditional marriage clothing. Their wedding was performed by Amma after the completion of the cleaning drive.
This is incredible, Mata @Amritanandamayi Ji! You motivate millions of people globally and your contribution to the 'Swachhata Hi Seva Movement' is incredible! #SHS18 https://t.co/mI7s3zbKfv

— Narendra Modi (@narendramodi) September 15, 2018
-Kannadi