Om Namah Sivaya
My Darling Children,
Nature and the environment are manifestations of God. The world—the created—and God—the Creator—are not two; they are one and the same. So, we must develop a respectful and worshipful attitude towards Nature. We have two mothers, the mother who gave birth to us and Mother Nature. Our birth mother may allow us to sit on her lap for a couple of years, but Mother Nature patiently bears our weight our entire life. Just as every child is obligated to his birth mother, we all should likewise feel an obligation and responsibility towards Mother Nature. If we forget this responsibility, it is equal to forgetting our own self. If we forget Nature, we will cease to exist; to do so is to walk towards death.
We should not leave Mother Earth with scars. On the other hand, we should leave her with flowers bedecked in her hair. We should leave her in a better condition than in which we came to her—never worse. Cleanliness and sanitation are fundamental to the development of any country. If we care about the coming generations—the world that will be inherited by our children and grandchildren—we must act now.
In the old days, there was no specific need for environmental preservation because protecting Nature was part of worshipping God and part of life itself. More than remembering God, people used to love and serve Nature and society. They saw the Creator through the creation. They loved, worshipped and protected Nature as the visible form of God. We should try to reawaken this attitude. Today, the biggest threat to humankind is not a third World War but the loss of Nature's harmony—our widening separation from Nature.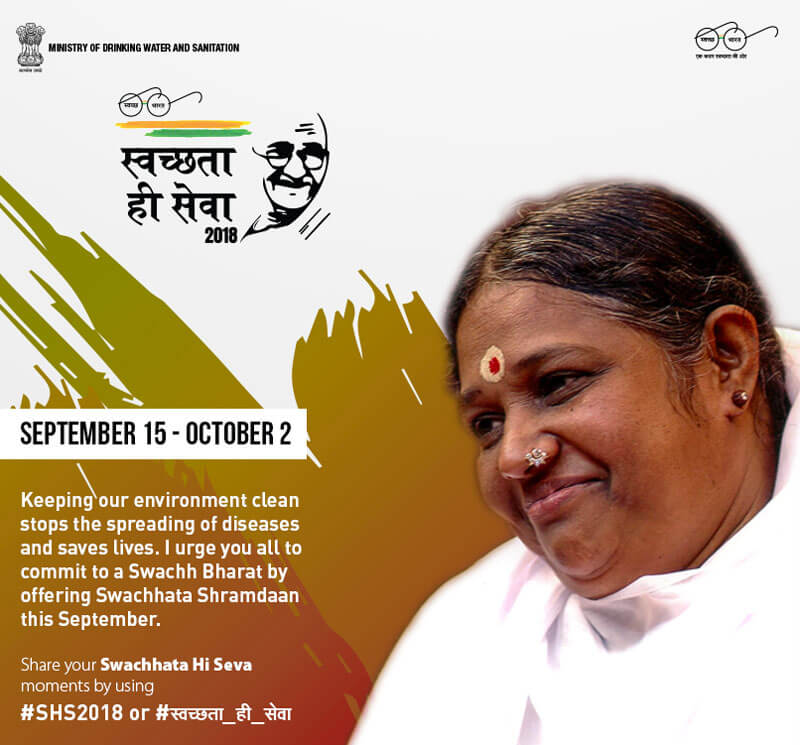 Swachhata Hi Seva
In the past four years, India has made rapid strides towards sanitation for all under the Swachh Bharat Mission, which has made sanitation a national people's movement. It is our responsibility to make sure that we continue to play our part in ensuring cleanliness and sanitation in our surroundings.
As we approach the 149th birth anniversary of Mahatma Gandhi and the fourth anniversary of the Swachh Bharat Mission, the Government of India, under the leadership of Prime Minister Narendra Modi, is re-launching the Swachhata Hi Seva mass movement from 15th September to 2nd October 2018. During this period, all of us citizens of India, should go out and play our part towards making India clean by conducting cleanliness drives in our localities and neighbourhoods. We should also encourage our relatives, friends, colleagues and neighbours to come out and participate in such drives as well.
Cleanliness Drives
On the morning of the 15th of September, Amma will be interacting with the Prime Minister through a Video Conference. We will share with him the Ashram's personal commitment to the cause of a Swachh Bharat, as well as the work being done by all of the devotees, ashram residents and Amrita students to keep India clean and beautiful. Immediately after this interaction, we will conduct a massive cleaning drive along a six-kilometre stretch of coastal belt near Amritapuri Ashram. Our schools, university campuses, ashram centres and other institutions throughout the nation will also be conducting cleanliness drives in their areas.
Amma would like to urge all of you to organise similar cleanliness drives on the same day in your areas and neighbourhoods and to spread the message of the importance of keeping India clean and beautiful. Let us ensure that all of us wholeheartedly participate in Swachhata Hi Seva 2018, and play our role in achieving the Swachh Bharat of Mahatma Gandhi's dreams.
~ Amma
====
(The Prime Minister's Office is asking us to capture pictures of these activities and post them on social media with the hashtag #SHS2018. You may also upload these on MyGov.)