27 Sep 2014, Amritapuri
Amritavarsham – Amma's 61st Birthday Celebrations
Public hygiene and improved sanitation for its population is India's newest priority; in order to achieve this goal, India aims to end open defecation by 2019. Moreover there is a lack of sanitation awareness in these communities that consequently arise in preventable diseases.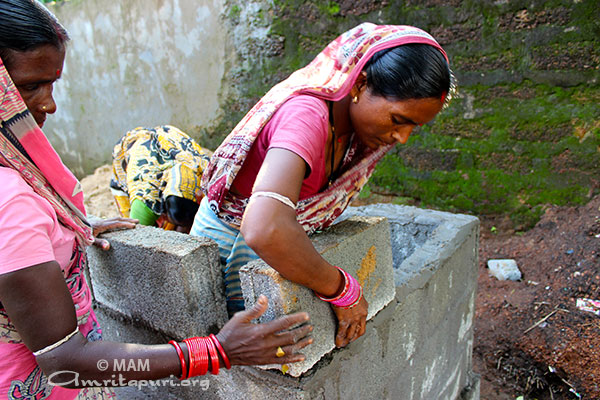 To address the problems of lack of toilets in the country, Ammachi Labs of Amrita University is rolling out vocational courses such as Masonry, Plumbing and Electrical Wiring through which women in villages are being taught construction, installation and maintenance of toilets. This project is creating ambassadors for women safety and hygiene.
As part of the first phase of its latest project, 20 women in the village of Bhoi Sahi in Odisha have become agents of change and an inspiration for all women, having completed building fully functional toilets in their own homes.
The women started building the toilets earlier this month and have completed 9 toilets with another 11 more on the way.
Amma's initiatives in empowering women have taken an innovative turn with the introduction of technology to deliver vocational education. The Bhoi Sahi women are thrilled to acquire new skills and learn through computers. One of the students, Shantilata explained that currently the women travel one kilometer to relieve themselves in the field. Many of them travel there in the early mornings and late at nights to attain some sort of privacy.
"It is quite brilliant what Amrita University is trying to do through this initiative – converting their most acute problem which is open defecation and lack of basic hygiene, into an opportunity to solve their immediate problems on ground as well as facilitating the increase in quality of life through skill development.", quotes Sreeram, a field researcher at Ammachi Labs.
Ammachi Labs has provided vocational training using technology to more than 4000 women from rural and tribal areas, to date. Ammachi Labs' revolutionary approach strives to achieve economic and social empowerment by using computerised vocational education training (cVET). The lab has developed Life Enrichment Education (LEE) courses to address existing social issues in the communities and practical training to support these women in acquiring new skills, we ensure each student enjoys a holistic experience. LEE awareness workshops were conducted and activities on hygiene, and have plans to deliver gender equality, human rights, and financial literacy modules to enhance their current understanding. With time, leaders emerged from the group of women who showed increasing amounts of initiative to sustain this project.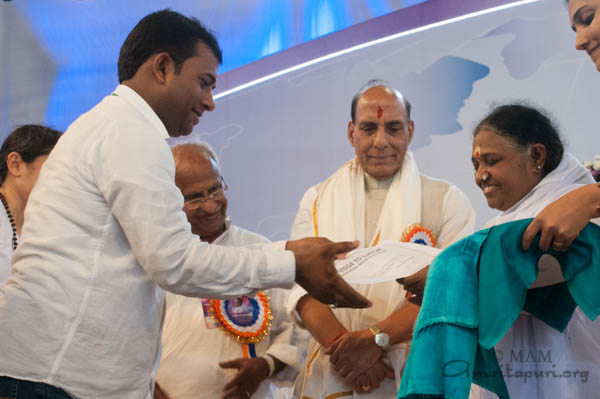 "With these new toilets, many expressed that they would feel safer and feel better about themselves; they see the short term rewards of having a toilet while reaping long term benefits for attaining a skill that they can generate an income for themselves and ensure the health of their families. It is our goal for these ladies that upon completion of the project, they form a women's cooperative and receive support from one another" said Prof. R. Bhavani Rao, Director of Ammachi Labs.
Inspired by this Vishnu Prasad, the Sarpanch of Bhoisaahi came as a testament of his support for the project. He has sanctioned these women to construct 3,000 toilets for 10,000 Rs per toilet.
-Tulasi