28 Jan, Kanya Kumari, Tamil Nadu – Bharata Yatra 2017
Amma dedicated the Ramayanam Darshanam (exhibition on Valmiki Ramayana) and the Bharatamata Sadanam (Bharata Mata Temple) to the nation at the Vivekananda Kendra, Kanyakumari.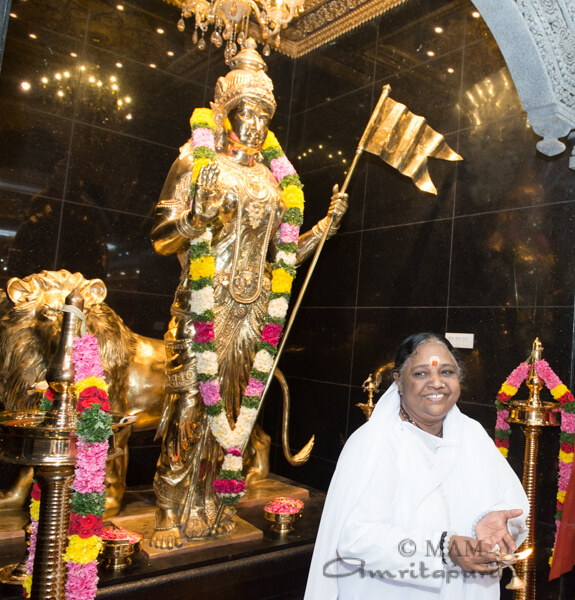 Entering the ground floor of the temple, Amma was given a tour of the Ramayana gallery, then performed a puja to idols of Sri Rama and Sita Devi. She performed arati to the 27-foot idol of Hanuman, who is the disciple of Sri Rama – an example of a perfect disciple.
The overjoyed temple officials and devotees guided Amma further to the prayer hall on the first floor, graced by ornate sculptures of gods and goddesses, as well as heartfelt and colourful portraits of distinguished Indian spiritual personalities throughout the ages.
Amma proceeded to the Sri Bharata Mata altar, where she lit the lamps with the prayer, – "Loka Samastha Sukhino Bhavantu" and said, "May the light from these lamps illuminate and offer peace to the world." After offering her prayers to Sri Bharata Mata, a beautiful 12-foot tall brass idol, Amma performed arati, as the chanting of Lokah Samastah Sukhino Bhavantu by all those present spread the vibrations of peace. Finally Amma called out "Bharat Mata Ki Jai" which reverberated throughout the hall, and indeed, will be felt throughout the land.
-Kannadi