25-26 January, Tiruvananthapuram, Kerala – Bharata Yatra 2017
Amma held a two-day Brahmasthanam Festival at her Ashram in Kaimanam. As Amma arrived, people lined the road leading to the ashram, standing with flowers and lit oil lamps to welcome Amma. As her car pass through, they garlanded Amma and received her blessings.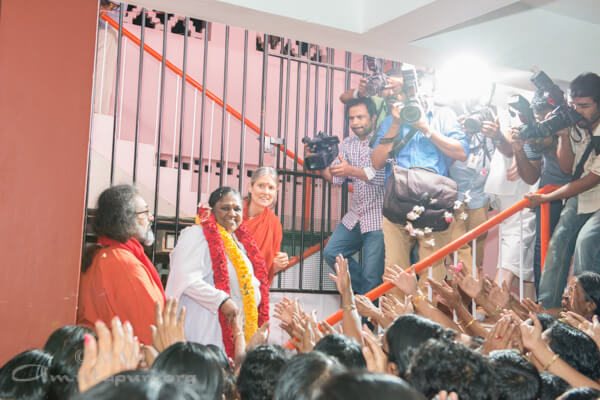 At the ashram, devotees were cheering with cries of Mata rani ki jai. Amma stayed at the steps and the balcony showering flower petals and her glance on them.
She also distributed prasad dinner to all those present.
The next day, a souvenir commemorating Amma's visit was released by 103-year-old Adv. Ayyappan Pillai to P Narayana Kurup, a famous Malayalam writer.
Amma distributed new saris to the members of the local Amrita Sree Self Help Groups.
Students of Amrita Vidyalayam presented cultural programs on both days, to the joy and delight of all attendees.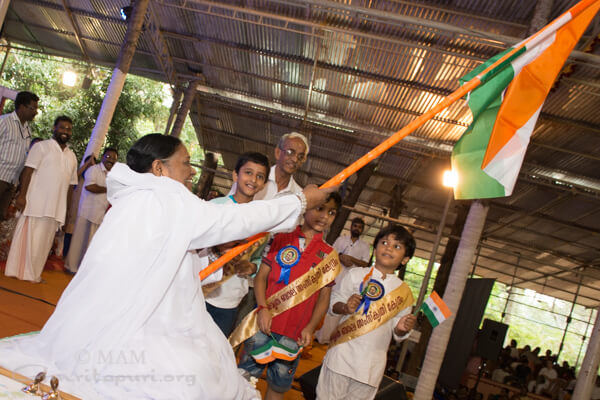 The 2nd day of the program was India's Republic day. As Amma walked to the stage, AYUDH members stood holding flags of India big and small. A small child handed Amma a big flag on the stage, which she took and waved with joy and love after offering pranams to it.
In her address, Amma touched upon the issue of the social issues of stray dogs, terrorism and drugs on campuses. Amma said: "Recently, the persistent problem of street dogs was a topic of hot debate in Kerala media. These dogs were viciously attacking people. Political leaders, social workers and others thought hard to find a solution. Dogs lack the faculty of discernment and thus it is understandable that they can bite people. However, here we have human beings—who are supposed to be fully endowed with this intellectual faculty—and they are still ready to tear each other apart.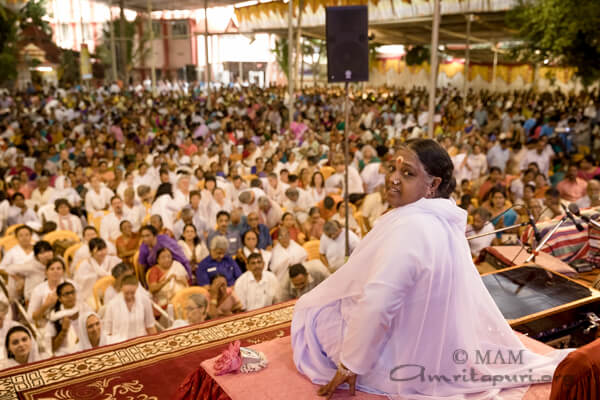 "We say Kerala is ahead of other states in the field of education, but at the same time, our little Kerala is ahead of many bigger states in the areas of religious division, enmity in the name of political views, crime, rape and other forms of violence against women, etc. Even educated youth from well-to-do families are getting caught up gangs. They become addicted to drugs and alcohol. Their addiction devastates their own life as well as the lives of others. It is turning life into a living hell full of car accidents, domestic violence, street fights and the sexual abuse of women and children.
"The solution to all these problems is value-based education. It has to be given to children at a young age. Education should be that which imparts the light of culture through word, thought, action and perspective."
Amma gave satsang, sang bhajans and led meditation sessions, followed by darshan which continued till late in the night on both program days.
-Kannadi