Kathmandu, Nepal – January 23, 2017
Amrita Institute of Medical Sciences, India, and Nepal's Association of Non-Government Hospitals (ANGHOS), have signed a Memorandum of Understanding (MoU) for improving patient care and healthcare delivery system at ANGHOS member institutes. Under the agreement, Amrita hospital will be setting up state-of-the-art telemedicine service for specialty and sub-specialty consultation across all seven ANGHOS-affiliated healthcare institutions in Nepal.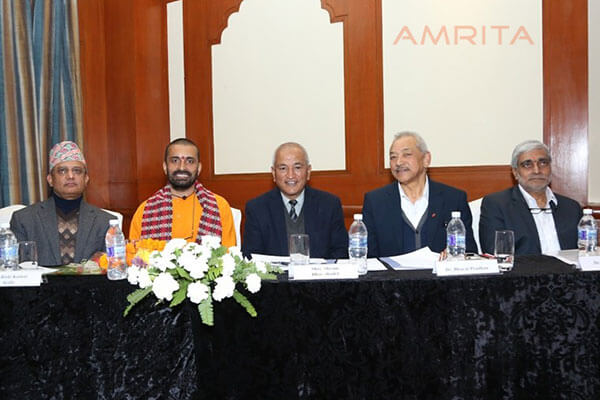 ANGHOS is an umbrella organization for NGO-run hospitals, strongly involved in protecting basic health rights of the Nepalese population and being a part of the social development process
Through this MoU a wide-ranging collaboration in skill enhancement of healthcare professionals through medical education and training programs will be initiated. Efficient use of Information Technology will be encouraged by the introduction of Health Management Information System (HMIS) to NGO hospitals in Nepal. There will also be e-learning programs in Continuing Medical Education (CME) and paper presentations as well as exchange programs for medical students, doctors and other healthcare professionals.
Signing the agreement with Dr. Bharat Pradhan, Chairperson of ANGHOS, Dr. Prem Nair, Medical Director of Amrita hospital said "The expertise of our medical specialists in India will instantly become available to them through telemedicine. We have already begun the treatment of two referrals from ANGHOS hospitals at our institution in Kochi. Furthermore, six nurses from the member institutions have completed their training in advanced infection-control practices. Training programs in advanced surgery will be initiated soon. With telemedicine, our engagement with patients will further deepen."
Another important part of MoU is the exchange of medical students, doctors, nurses, scientists and other healthcare professionals between the two countries.
Dr. Prem Nair added: "We intend to focus on specialized short-term, hands-on training for doctors and other healthcare professionals from Nepal. The training areas would involve specialties like head and neck, upper airway cancers, thyroid, heart diseases and arthoscopy surgery, as well as radiology and pathology. We are starting training programs for doctors from Nepal in laparoscopy and advanced surgical skills. Additionally, we will be developing an E-learning package for Nepal to enhance the training of medical students in the country."
The joint research projects between Indian and Nepalese healthcare professionals will revolve around neglected tropical diseases and dengue, chikungunya, malaria and filaria. Community-based health activities will be another focus area.