Telemedicine is a method by which specialist doctors can examine, investigate, monitor and treat patients in remote areas through satellite video-conferencing. Medical images, patient records and output from medical devices can be transmitted, as well as live two-way audio and video. Specialists can advise, online, doctors or paramedics at the patient's end, and if necessary even guide them in surgery.
Amrita Institute of Medical Science has been providing compassionate care through Telemedicine since 2003, servicing remote islands such as Lakshadweep and Andaman-Nicobar, as well as Leh-Ladakh in Kashmir. Now, 60 National centers in India and 9 International centers are connected from Amrita Hospital, Kochi. Aside from providing consultations to the remote corners of India, Amrita uses its telemedicine link to educate doctors in remote primary centres in the latest medical advancements through seminars, workshops and teaching programs.
Amrita has also used the technology to provided specialty medical support during times of natural disasters, including the 2004 Indian Ocean Tsunami, 2008 Bihar floods, 2013 Utharakhand floods, and in 2014 Jammu Kashmir floods.
Aside from providing consultations to the remote corners of India, Amrita uses its Telemedicine link to educate doctors in remote primary centres to the latest medical advancement through seminars, workshops and teaching programmes.
Amrita's Telemedicine programme is made possible through its link with an ISRO [Indian Space Research Organisation] satellite.
"The beauty of society lies in the communication between hearts." – Amma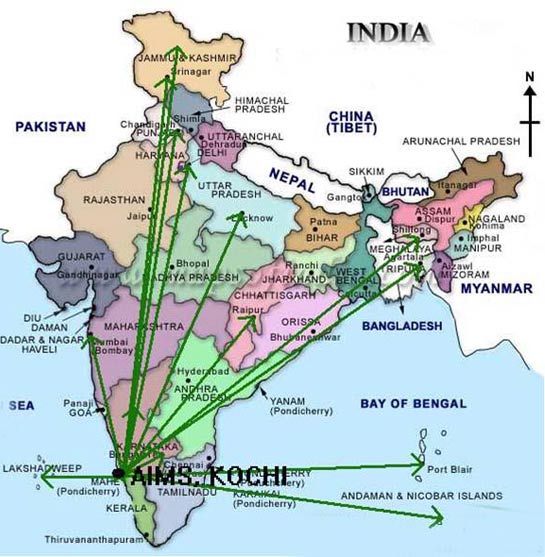 The achievements of the Amrita Telemedicine project are many and varied:
* There has been a substantial decline in unnecessary referrals to specialists
* Patient satisfaction with the face-to-face video consultation has been significant
* Diabetes in gestational pregnancy brought under control and ensured safe delivery for Lakshadweep patients;
* Cancer diagnosis and treatment prescribed for SNM Hospital patient in Leh, Ladakh.
* Videoconferencing also opened up new possibilities for continuing medical education or training for isolated or rural health practitioners, who may not be able to leave a rural practice to take part in professional meetings or educational opportunities.
* The Telemedicine service provides primary specialist diagnosis, second opinion, recommended treatment and post-treatment advice based on consultation and medical data test results
* DNB teaching programmes is being telecasted to other telemedicine centres, like Tiruvananthapuram Medical College.
* On 13th January 2003, Amrita's first remote tele-surgery procedure was performed. The Amrita Emergency Care Unit at Pampa (on the way to Sabarimala shrine of Lord Ayyappa, a famous pilgrimage centre in eastern Kerala) was able to save the life of a pilgrim by the tele-surgical procedure using the local telemedicine facility. The cardio-vascular thoracic surgeon guided the procedure remotely and the pediatric cardiologist at Pampa performed the procedure.
* Both national and international seminars and workshops are being conducted regularly at Amrita.
* A mobile Tele-medicine serves the rural and tribal areas of Kerala
* Postgraduate training programmes, live interaction of CME programmes with various telemedicine centers simultaneously
Through the Amrita Telemedicine service, Amma has found yet another way of reaching out to Her children to ease their suffering. Amma's infinitely compassionate arms continue to extend in every conceivable direction.
To contact:
Telephone: 011-91-484-2802121
Videoconference ISDN Number: 011-91-484-280-2802
"Communication through machines has even made people in far off places seem very close. Yet, in the absence of communication between hearts, even those who are physically close to us seem very far away." – Amma
Mobile Telemedicine Unit
The Amrita Mobile Telemedicine Unit – the centrally air-conditioned unit has state of the art satellite-based videoconferencing capability and is equipped with a wide range of equipment permitting a large range of functions including color echocardiography, cardiac treadmill, gastroscopy, colonoscopy, retinal camera, ultrasonography, X-ray radiography, electrocardiography, biochemical testing with a semi auto analyzer, light microscopy and a digital photography. The output from these devices can all be transmitted to a specialty hospital (typically Amrita) for expert opinion. The unit is equipped with a state of the art video conferencing unit connected to an extended C band 1.8m antenna and control unit for uninterrupted Telemedicine linkup in all weather conditions. It has the capability to connect to any health care center that has a Telemedicine facility. It is also equipped with the Amrita Health Information System (AHIS) Telemedicine suite for electronically storing and transmitting patient data including medical images. The AMTU allows a wide range of healthcare services to be delivered with minimal expertise and infrastructure at the peripheral end. It also ensures increased utilization of medical facilities, manpower and technology while minimizing maintenance costs since the need for fixed infrastructure and equipment can be avoided. From the patients perspective they benefit from easier access to advanced healthcare and specialty consultation, saving time and travel expenses.