14 August 2016, Amritapuri
Revered His Grace Philipose Mar Chrysostom Mar Thoma Metropolitan—affectionately known as 'Thirumeni'—is turning 100 years old next April.
This year, Thirumeni is traveling the length and breadth of India, meeting and interviewing 100 celebrities. Renowned Malayalam film director Blessy is documenting his efforts – the film will be released during Thirumeni's 100th birthday celebrations.
As part of his tour, Thirumeni came to meet our Amma and they had a private meeting, in which they shared their visions and methods for the betterment of society. Even at 99 years old, Thirumeni displays a sharp and clear-thinking mind. He is very clearly a wise, down-to-earth man, full of humor and laughter, and with a loving and open mind. Amma and Thirumeni discussed various means of helping the poor, including building houses, giving medical care and offering education. They agreed that it was very important to be careful in selecting the right recipients, who are truly needy. Thirumeni lauded Amma's method of cross-checking the background of those who opt for free treatments at Amrita Hospital, to verify their level of need.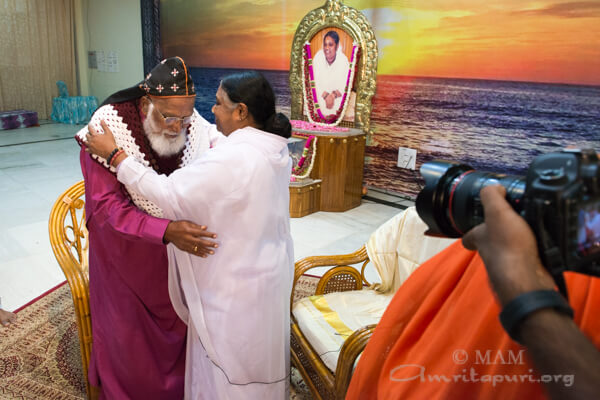 During their meeting, Blessy, the documentary filmmaker, posed a question to Thirumeni. "Why do you say Amma is God?" Sitting with Amma, Thirumeni explained simply, "God is there in everyone. But in Amma, it is there more."
Thirumeni has been coming to meet Amma regularly since 2008 {news}. As he took leave, Amma blessed Thirumeni, saying "Each time you come here, I pray that you may have a long and healthy life."
-Sakshi