Sati, an elderly woman who lives just north of the Ashram, comes regularly for darshan. She never comes empty-handed. Each time, Sati brings a tender coconut to offer to Amma, often along with a piece of cake or some homemade food.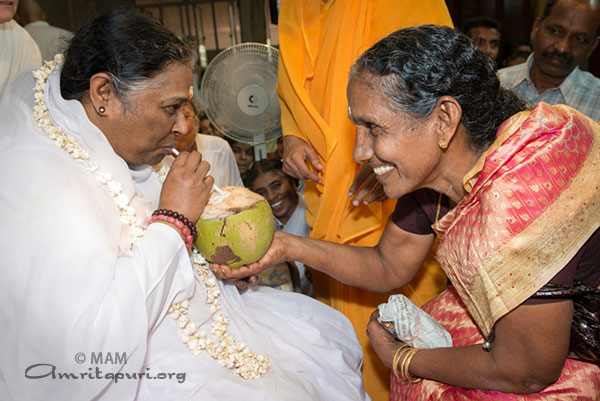 Sati has a beautiful relationship with Amma. At more than 70 years old, she has known Amma since they were both children, and witnessed firsthand Amma's childhood leelas, including the time Amma lay on top of a six-foot banyan plant, and the time she transformed water into milk and panchamritam.
When Sati brings the coconut to Amma, she lies on Amma's lap, pleading with Amma to drink the coconut milk, making sure that Amma finishes completely. Sati won't allow anyone to touch her, or take the coconut away from Amma's hand. Sometimes Sati feeds Amma herself.
But Sati brings more than food to Amma – lying in Amma's lap, she sings to Amma – compositions of her own making. Every night before she goes to bed, Sati composes these lines for Amma. Here is one such verse:
[av_one_half first av_uid='av-3zcftz']സ്നേഹത്തിൽ നിന്നുദിക്കുന്നു – അമ്മ
സ്നേഹത്താൽ വൃദ്ധി തേടുന്നു
സ്നേഹതം താൻ ശക്തി ജഗത്തിൽ – അമ്മ
സ്വയം സ്നേഹം താൻ ആനന്ദമാർക്കും[/av_one_half]
[av_one_half av_uid='av-sstnd3′]Rises from love – Amma
With love she grows
Love is the power in the world
Amma is love and bliss for everyone[/av_one_half]
Amma has helped Sati on several occasions throughout her life. When Sati was pregnant for the fourth time, Amma personally took Sati to the hospital in Chavara.
Sati is one of the rare villagers who has always understood Amma's greatness. Her pure love and faith is something one needs to see with one's own eyes. If you are around, watch her next time when she offers her coconut to Amma.

-Sakshi