24 Dec 2010, Amritapuri
Celebrating Christmas with Amma
On Christmas eve around 1500 international visitors from all over the world and many thousands more from all parts of India were on hand for the festivities. Before the actual program began, Amma had come out in the late afternoon for meditation at the seashore and from there to the evening bhajans.
After bhajans, the hall and stage were quickly transformed into a theater, ready to stage this year's original Christmas musical, Mary, Mary, Mary & The Highest Commandment, performed by an ensemble cast of ashram residents and devotees from all over the world.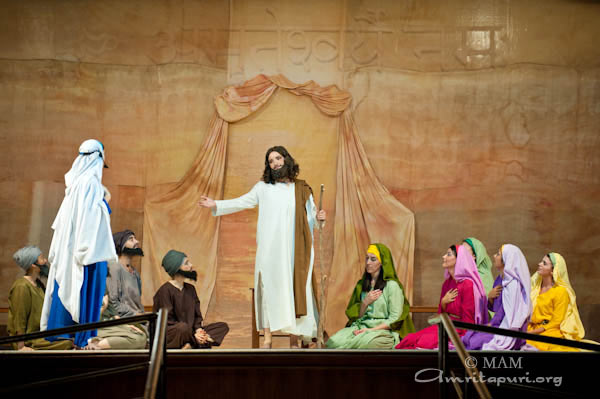 Through this play we peeped into the hearts of some of his closest devotees, three women–each named Mary: Mother Mary, Mary of Bethany and Mary of Magdala. As we watched their stories unfold before us, we got a special chance to experience how he stepped into their hearts, and guided each one along their own individual path and follow their lives as Jesus teaches them through his parables about the commandments of God and the path to eternal life.
Those involved in the production spent several weeks preparing, composing original music, choreographing several dance numbers, painting huge murals for backdrops for each scene, stitching costumes for the variety of characters (including various biblical characters, others dressed as birds, monkeys and even an elephant!), etc. and all their hard work showed as the performance was spectacular and went off without a hitch.
Amma had a front row center seat to watch the entire performance unfold. After the show finished, Amma gave her Christmas message, which Swamiji then translated into English.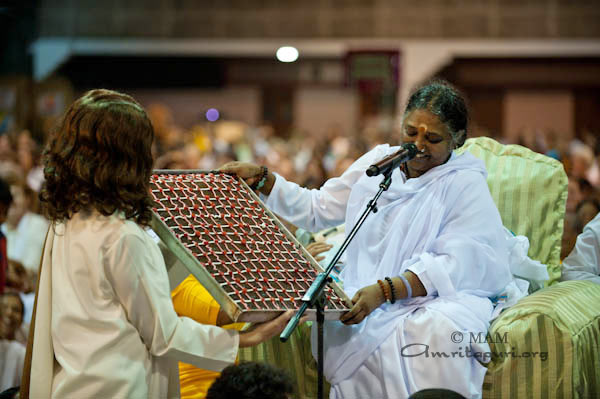 After her message Amma led everyone in the hall in joyous renditions of bhajans ending songs with everyone raising their hands up in the air and Amma calling out "Maha Kali Ki" and "Mata Rani Ki" and the whole hall responding "Jai!!!"
The person who acted as Jesus in the play then presented Amma with the first tray of Christmas cake so it could be distributed to everyone. When the Christmas cake was brought to her, she blessed it and told us that WE should become the cake. The first pieces Amma offered to the devotees from several of Amma's satsangs overseas who were present, watching the festivities via a web telecast.
– Tulasi