3 March 2007 — Bogadi, Mysore, Karnataka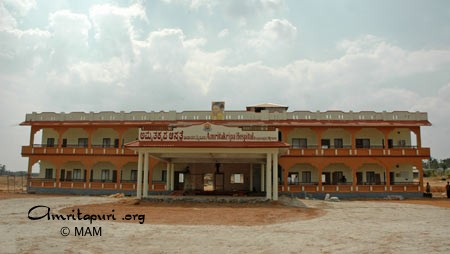 During Amma's first night of programs in Mysore, Sri. B.S. Yediyurappa, the Honourable Deputy Chief Minister of Karnataka, inaugurated the new Amrita Kripa Hospital in Rupanagar. Located a few kilometres from Amma's ashram in Bogadi, the Amrita Kripa Hospital has 50 beds and will offer free treatment to the poor. It is equipped with X-ray facilities and a diagnostic laboratory.
Dr. Prem Nair, the medical director of the Amrita Institute of Medical Science (AIMS) in Cochin, showed the deputy CM AIMS's "Mobile Telemedicine Unit," a bus-sized ambulance with X-ray, scanning and diagnostic facilities and an ISRO-satellite connection to AIMS for consultations. During the CM's tour of the Unit, he interacted with AIMS doctors via the satellite link.
Other program guests included Sri. G.T. Gowda, the Honourable Minister for Co-operation & District In-Charge, and Sri. D.T. Jaykumar, the Honourable Minister for Housing.
G.T. Gowda helped Amma distribute checks and certificates of enrolment for the Ashram's Amrita Nidhi Pension Program. The program, which provides financial assistance for widows and disabled people, is being expanded by another 1,000 enrolees in the Mysore area.
D.T. Jayakumar distributed sewing machines to 10 impoverished women. The Ashram is giving 100 such machines away in the Mysore area in order to expand the financial horizons of the recipients.
At the beginning of the program, Amma's Mysore devotees offered her with a citation of appreciation and devotion as well as a hand-carved sandalwood statue of Durga slaying Mahishasura. Durga in the form of Mahishasura Mardini is the protective goddess of the city. "Mysore" in fact is a corrupted and anglicized version of "Mahishuru," meaning "the City of Mahisha."
Amma's Mysore Brahmasthanam Festival programs were technically on March 1st and 2nd, but as always Amma's darshan did not conclude until early the following morning. The 3rd marked the advent of Holi, and Amma fully embraced the colourful holiday—smearing devotees cheeks with florescent paints and even spraying died water into the air out of big "water pumps" supplied by devotees.
In fact, the final 130 people to have Amma's darshan in Mysore were from Japan and had never met her before. Members of the International Volunteer University Association (IVUSA) showed up towards the end of Amma's darshan on their way to Nagapattinam, where they will spend their college vacation constructing tsunami-relief houses for the Ashram. IVUSA has been participating annual in the Ashram's "homes for the homeless" project since 1998.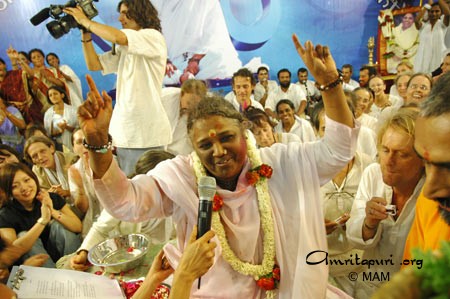 Amma was in full form when the IVUSA members arrived, joyously singing bhajans as she gave darshan—specifically her new favourite "Mata Rani" and "Rama Krishna Govinda." As Amma and the devotees sang, Amma would call out, "Bolo Mata Rani Ki Jai!" and everyone would chant the response. It was during such moments that Amma also blast off her "water guns," spraying long-time devotees and the newly arrived alike.
When darshan finished, Amma stood up and began to dance. It was the very picture of Holi— Amma's white sari covered in colours, surrounded by dancing devotees. One devotee later commented, "Until now I did not know what heaven was." Another said, "Until tonight I had only seen Amma dance in old videos. I never thought that I also would one day get my chance to dance with Amma." And another, "Only now do I understand what the rasa-leela was like." It was a day that the devotees of Mysore will never forget—a Holi spent with Krishna in the form of their beloved Amma.
—Tulasi