"This Government Needs Your Blessings," Says DMK Health Minister
2 February 2007 — Madurai, Tamil Nadu -Bharata Yatra 2007
Currently, the Tamil Nadu Government is headed by the DMK, a party known for being anti-religion in general and anti-Hinduism in specific. The party's current leader, Chief Minister M. Karunanidhi, once even said that party members wearing the tilak mark on their foreheads were insulting the DMK's founding father. As such, the fact that Karunanidhi participated in Amma's program in Nagapattinam on the 31st has created quite a stir amongst India's political pundits. During that program, the CM even referred to Amma as "a pearl among human beings," praising her wisdom, love, compassion and selfless service.
need your blessings
Tonight at Medical College Grounds in Madurai, DMK party-member Sri. K.K.S.S.R. Ramachandran, the Honourable Minister for Health & Hygiene of Tamil Nadu, went even further in lauding Amma. "Amma is not cheating anyone in the name of God," he said. "Our party's founding father told people to 'See God in the smile of poor.' Today, we see Amma distributing all the money her Ashram receives to the poor, and she becomes happy seeing the joy of poor. Maybe that is why all of us see her as another form of God. Our religion says 'Anbe Shivam' [Love is God]. Today we can say 'Anbe Amma' [Love is Amma]. Such is the extent of the good she is doing to the society."
The Health Minister continued, "Amma was not born in a fortunate, progressive community. We all know that she has treaded a difficult path and, looking at the amount of service she is doing to the society, we see her as God."
"Karunanidhi has never spoken badly about spiritual people," he said. "But when spiritual people were doing wrong things in the name of God, he pointed it out. Karunanidhi is the leader of the party and the leader of the state. So it was his duty to point out such faults. Amma spends all the money for giving medical help, educational support and for the programs like pension one that we have started here today. Amma is doing the work that God has to do."
He then went on to speak specifically about the Ashram's tsunami rehabilitation work: "When the tsunami came, religious people just prayed, 'Oh, God, please save us!' and then walked away. But Amma didn't stop with prayer. She spent as much as 200 crores to help tsunami victims wiping their tears. This shows us how expansive Amma's heart is."
amma is love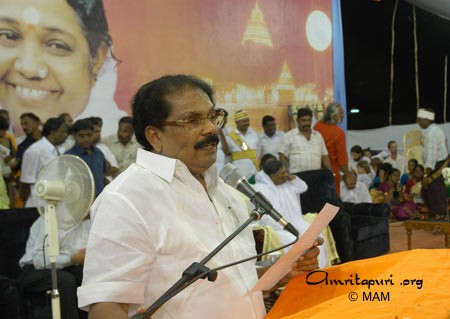 Saying that Amma was "ruling the hearts of Tamil Nadu with her love," Ramachandran requested Amma to extend the Ashram's humanitarian works in the state and added that Karunanidhi and the Tamil Nadu Government would support the Ashram in all such endeavours. He specifically asked for the Ashram's help in terms of education and healthcare.
"This land will never forget your help. This land needs your blessing. This government needs your blessing. These people need your blessing," he said.
On behalf of the Mata Amritanandamayi Math, Ramachandran then inaugurated the Amrita Nidhi pension program in Madurai, handing out certificates of enrolment and checks to 10 widows and handicapped people. These were representative of 100 such new beneficiaries in the Madurai area. Sewing machines were also given to impoverished women by the Mayor of Madurai, Smt. Tenmozhi.
—Kannadi