Karunanidhi: "Amma is a Pearl among humans"
31 January — Nagapattanam, Tamil Nadu – Bharata Yatra 2007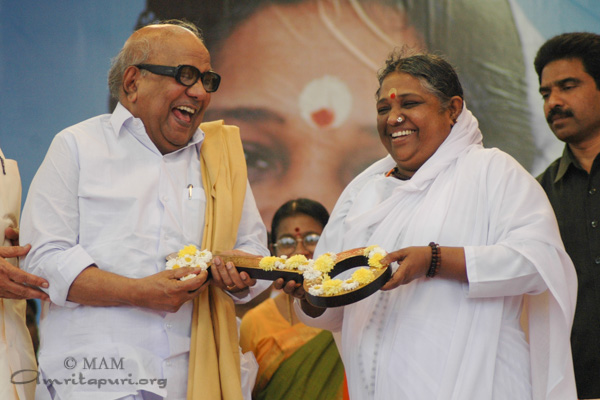 "The Tamil Nadu Government and its people are extremely happy at the way in which the Mata Amritanandamayi Math has gone about in wiping the tears from the eyes of those fishermen who lost their houses and belongings and even their families in the tsunami disaster of 2004," said Dr. M. Karunanidhi, the Honourable Chief Minister of Tamil Nadu at the beginning of Amma's program in Nagapattinam.
This was the third time that Amma had visited the tsunami-ravaged area—the first being in February of 2005, just two months after the disaster, and the second in December of that same year. In that time, the Math has completed 1,489 houses in the district.
Before Amma's program, Karunanidhi visited one of the villages reconstructed by the Ashram. Mentioning this fact in his speech, the CM said, "The houses are so good that even I felt like asking for one for myself. The houses are so well-built and so planned that they have become a boon to the beneficiaries."
Karunanidhi praised Amma's wisdom, love, compassion and selfless service. "Amma, I understand, was born in a fishing village called Parayakadavu by the seaside in Kerala. What does the ocean wash up on its beaches? Pearls. Amma is a pearl among humans: the Pearl of Wisdom, the Pearl of Compassion, the Pearl of Selfless Service and the Pearl of Love."
Karunanidhi then helped the Ashram distribute house keys to 10 recipients of the Ashram's tsunami-rehabilitation program, as well as pensions and sewing machines to various impoverished people. The house keys were symbolic of 420 houses the Ashram has recently completed in Keezhe Pattinacherry. The pensions were representative of the Ashram extending its Amrita Nidhi Pension program by 100 people in the area. And the sewing machines stood for 100 such machines the Ashram has given away in order to help poor women expand their financial horizons.
After the public function, Amma gave satsang, led everyone in the singing of bhajans, and guiding everything through a meditation and manasa puja.
Amma then gave darshan throughout the night—the majority of those coming for her embrace so that once again have a roof over their head only due to Amma's grace.
—Tulasi