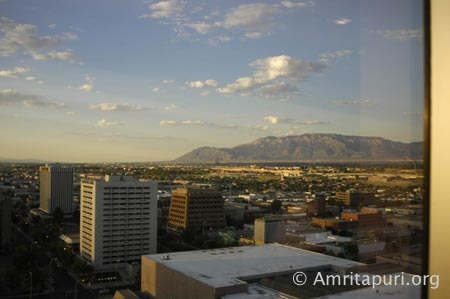 28 -29 June 2004 Santa Fe
"This is the highpoint of Amma's tour. It's all down hill from here," joked one of Amma's devotees from Santa Fe. He was referring to the fact that, at 7,000 feet above sea level, Amma's programmes at Her New Mexico ashram are the most physically elevated of Her U.S. Tour.
The two days Amma spent at the ashram were blissful ones—both for the devotees and for the land. The ashram is located in one of the most arid areas of the United States and, as is typical in the summer, Sante Fe was undergoing a severe drought. Many of the shrubs around the ashram property were starting to die from lack of water and ground wells were running very low. But, as always, Amma's presence seemed to bring the rain. Each day Amma was in Santa Fe, it poured down. "It always happens in Santa Fe. After a long drought it rains when Amma arrives," says Steve, a resident of the ashram.
As New Mexico is home to a great number of people who speak Spanish, each night Amma sang bhajans in that language, including "Ishwar Tumhi" and "Anantamami." She also sang in English and in Hebrew. When one man from Lebanon came for Amma's darshan, She stopped everything and, with him laying across Her lap, sang "Ishwar Tumhi" in Arabic in its entirety. The man seemed unable to believe what was happening to him and, by the time Amma finished, nearly five minutes later, he was crying uncontrollably.
As in India, extended Latin American families are very close and, more than once, Amma gave darshan to groups of as many as 16 people.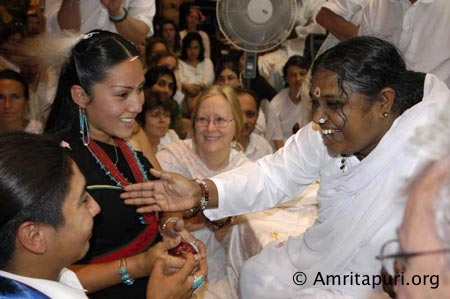 Another extended family came to see Amma in New Mexico as well—the Tewa Dancers, Native American Pueblo Indians who represented the indigenous people of North America during Amritavarsham50. The Tewa Dancers came to offer another dance performance for Amma, but Amma had a surprise in store for them—during Her bhajans on the night they were present, She sang "Ishwar Tumhi" in their own native Tewa tongue. The applause following Amma's song was far louder than could have come from the group of 10 Tewa speakers there.
Later on, the Tewa Dancers performed several traditional dances, including the Deer Dance, which they explained could not be performed in India because they could not fit the antlers on the plane. Later on Devi Bhava, Amma married two of the dancers, who were dressed in the traditional Tewa marriage dress.
30 – 2 July 2004, Albuquerque, New Mexico
Although Albuquerque is 2,000 feet below Santa Fe, Amma's programmes there seemed even more elevated than the ones at the ashram, as Amma's children were given a double blessing—hearing Amma sing Sri Adi Shankaracharya's "Mahishasura Mardini" on July 1st and being able to celebrate Guru Purnima in the physical presence of their Guru on the 2nd.
Rumors had been spreading in Los Angeles that Amma would soon sing Shankara's stottram, but it did not materialise in L.A.. But then at the end of bhajans on the first night of the Albuquerque retreat, devotees were thrilled to hear Amma ecstatically calling out, "Jay jaya he mahishasura mardini ramya kapardini shailasute!" over and over again. Each time one thought the ancient chant in praise of Devi was coming to an end, Amma would keep it going, chanting on and on at a faster and faster tempo. By its end everyone was all but out of breath.
As Amma ended darshan on the 2nd, Swami Amritaswarupananda delivered a Guru Purnima message, saying how, for a true disciple, worship of the Guru's feet is not a once-a-year-affair, but his or her entire life. Upon darshan's conclusion, Amma delivered a Guru Purnima message to Her children, leading them in several minutes of chanting the peace mantra "Om lokah samastah sukhino bhavantu". Amma asked everyone to imagine their prayers as spreading out to cover the entire world and, in particular, asked them to think of all of Her children unable to be in Her physical presence at that hollowed moment.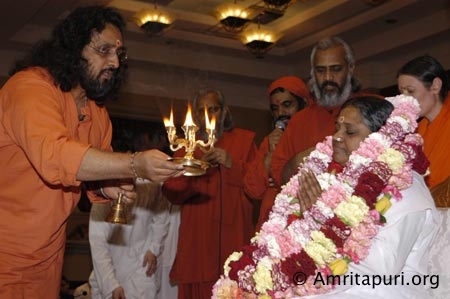 Swamiji then performed Amma's padapuja, leading the chanting of Amma's 108 names. Upon the puja's conclusion, he and all of Amma's sannyasins garlanded Amma until She was practically buried in flowers. Guru Stottram and "Satguruve Jaya" were also sung. Then Amma distributed payassam to all the devotees. It was past 3:30 when She finally left.
It was Guru Purnima and Amma had spent the whole day—as She does every day—giving everything to Her children. In all, some devotees had Amma's prasad four times that day: the dinner Amma served at the retreat, a Hershey's Kiss from their darshan, Amma's payassam and then the mahaprasad of Amma's padapuja.
— Kannadi