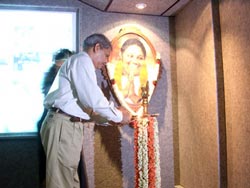 7 July 2004 — Amrita University, Ettimidai
A state-of-the-art E-learning Studio with 6 simultaneous synchronous LCD panels was launched at Amrita Vishwa Vidyapeetham (Amrita University) Ettimadai campus on 7 July, 2004 by Mr. Kris Gopalakrishnan, Co-founder and Chief Operating Officer of the Indian IT major, Infosys Technologies. Mr. Bhaskar Narayan, Director, Satellite Communications, Indian Space Research Organization (ISRO) was the distinguished guest of honour for the function.
This studio and e-classroom is the front-end of the high bandwidth satellite network, which has made Amrita University a fully interactive, multimedia capable, multi-disciplinary virtual university – the first of its kind in the nation. It will enable interactive class room sessions across all 4 campuses of the University.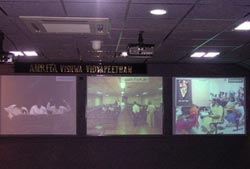 The teacher is empowered with the unique capability of performing two-way live audio-video interaction. The facility is equipped with 130 seats for classroom instruction, 24 hours a day, 7 days a week using the dedicated satellite link with a bandwidth of 1.5 Mbps. The e-classroom is ergonomically designed so as to enhance the teaching and learning process and give teachers and students a feel of a normal class room session. This heralds a new vista in the delivery of education and is a model for educational institutions across the country.
Amrita University has plans of immediately offering various courses between campuses. Courses on cutting-edge technology areas like Mobile and Wireless communication, Information Security, VLSI using Cadence tools, Bioinformatics etc.
With ISRO, Amrita University plans to start Village Resource Centers for the transformation of rural communities.
—Tulasi