25 March, 2006 — Ranchi, Jharkhand
"We've heard a lot about Amma and seen her on TV, but today we have the great luck of actually meeting her and having her darshan, and as such I feel very happy," said Arjun Munda, the Chief Minister of Jharkhand, upon Amma's first visit to the recently formed state. "May the all-embracing love of Amma—which has united the entire world—sprout, grow and blossom in Jharkhand. Inspired by Amma's loving touch, let us try to transcend or differences, overcome our difficulties and walk in a new direction."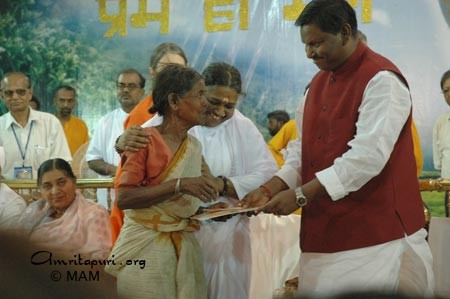 The Chief Minister helped officially inaugurate the Amrita Nidhi lifetime pension programme in Jharkhand, handing over certificates of enrolment to six widows from Ranchi. The ladies were representative of 1000 such destitutes who are now receiving financial aid from the Ashram in the city.
Indir Simha Namadhari, the Speaker of the Assembly, was also on the dais. In a rousing speech that brought many rounds of applause from the tens of thousands gathered at the Zila school ground, Namadhari compared Amma to Adi Shankaracharya. "From Kerala, Shankaracharya walked, carrying the flag of knowledge. Thus he travelled all over India and established the four ashram centres in India's four corners. He made everyone aware of his existence—that was Shankaracharya's work. From that same land of Kerala, Amma has started walking, but Amma has crossed the boundaries of the nation and in every corner of the world she is allowing the ocean of her love to flow."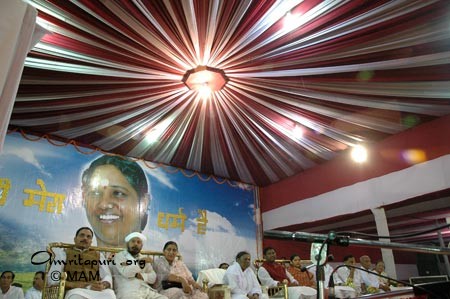 Namadhari also said that while the culture of Jharkhand is very rich, the majority of its people remain quite poor, adding that he felt confident that after Amma's visit, the state would be transformed economically.
Swami Satyeshananda of Ranchi's Ramakrishna Math also came to offer a garland to Amma.
Indir Simha Namadhari officially released the book, handing the first copy Maharaj Chintamanisaram Nath Sahadev, the King of Ranchi.
Yogoda Satsanga Society of India, the organization founded by Sri Yogananda Paramahansa and, a sannyasin and two brahmacharis from his line came to pay their respects to Amma on stage. The sannyasin, Swami Krishnananda Giri, also contributed an article to Amrita Prabha 2006, a book released to commemorate Amma's visit to Ranchi.
In that article, he wrote: "Amma is such an avatar who is leading the world by the example of her life, which is nothing less than a phenomenon. Her life shows us how we should live, how we can bring peace and harmony in our own lives first, which, in turn, will bring peace and harmony all around us. Feeling the presence of God within, we will see him without, in all persons and under all conditions. Amma is a Queen of Divine Love, embracing the world with her tenderness and compassion, bringing about harmony amongst the followers of all religions, of all nations. In her life, we see perfect balance of all aspects of yoga in action—jnana, bhakti, raja and karma."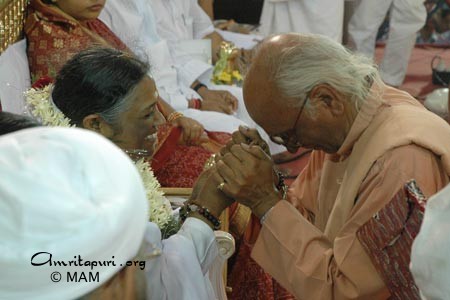 The Maharani of Hathwa also sat on the dais, as did the state's Minister of Education, Pradeep Yadav and Finance Minister Raghuvardas.
In fact, Raghuvardas, who had come for Amma's darshan earlier in the day, made perhaps the most heartfelt statement of programme, a statement that describes best why kings, queens, politicians and monks—in short, the breadth of humanity—are coming to Amma: "The love that I experienced in her lap this afternoon can only be experienced in the lap of a saint."
Amma's continued giving darshan till past 11:00 a.m. Upon its conclusion, she travelled onward to Kolkatta, the final city of her 2006 Bharata Yatra.
–Kannadi