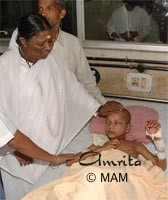 24 March, Benares Hindu University Hospital, Varanasi, Uttar Pradesh –Bharata Yatra 2006
On 7 March, the ancient city of Varanasi made worldwide headlines when bomb blasts went off at its Sankat Mochana Hanuman Temple and railway station. Twenty people were killed and more than 100 were injured.
On Amma's way from Lucknow to Ranchi on 23rd March, she stopped for the night in the ancient city. Upon Amma's departure, devotees requested her to visit Benares Hindu University Hospital, where 10 bomb-blast victims remained inpatients.
As hospital doctors guided Amma from room to room, tears flowed from her eyes. Amma stood at the victims' bedsides, kissed their cheeks and offered words of consolement to those who were conscious. But mainly she was silent.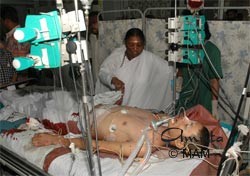 One of the victims was Ashish, a 10-year-old boy who had been hurt in the temple blast. Amma caressed his forehead and looked at his wounds. His legs in particular had been damaged.
In the intensive-care unit, Amma visited a 17-year-old boy named Ratish Kumar. Only a few days before, he had developed intense internal bleeding, which the doctors were unable to stop. He was breathing only with the help of a ventilator. Amma gently touched his feet, closed her eyes and offered her prayers. Later she told those with her that she felt he would die soon. The next day, Amma was sent word that in fact he had passed.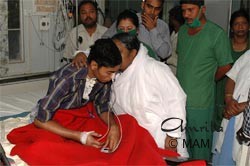 Amma spent time with inpatients hospitalized for ailments unrelated to the blasts as well, including one man who had recently attempted suicide.
Upon Amma's instruction, the Ashram is giving each of the 10 victims Rs. 5000 to help pay for their immediate hospital expenses. She also offered further financial assistance through the Amrita Nidhi lifetime-pension program and offered to build houses for any victim lacking proper shelter through the Amrita Kuteeram homes-for-the-homeless program.
—Sakshi