A Special Year of Inspiring Spiritual Transformation at Amritapuri
4 Nov 2023, Amritapuri Ashram
Over the past 11 months, Amritapuri witnessed an extraordinary event, one of unprecedented depth and significance—the Gita Jnana Yajna. Initiated by Amma on Gita Jayanthi on 3 December 2022, this remarkable journey came to a close today. This year-long event saw 700 individuals, each representing a unique flower of varying size, colour and fragrance, in a divine garland, united to expound on the verses of the Srimad Bhagavad Gita, intertwining their personal insights and experiences. All the participants were like a living Gita book, each one of us a verse of it.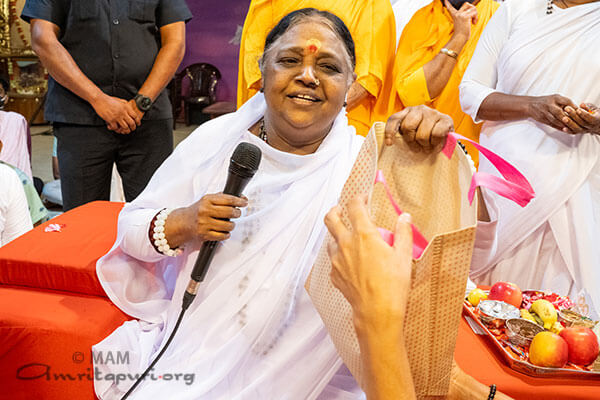 "This was undoubtedly a historic and unique Yajna. One that has probably never happened in the history of the world" said Swami Dhyanamritanand who was instrumental in organising this Gita Jnana Yajna and explained the details of this Yajna.
The Gita Yagna was nothing short of a remarkable feat, breaking barriers and uniting people of all ages, languages, and backgrounds. Participants spoke in 10 different languages on the sacred verses of the Bhagavad Gita. From the youngest speaker, 8-year-old Atmanand, to the oldest, 84-year Smt. Sharadamma from Trivandrum, this Yajna transcended generational boundaries. Moreover, participants represented all four ashramas (Brahmacharya, Garhasthya, Vanaprastha and Sannyasa), encompassing people from various walks of life, from school students to professors, doctors to construction supervisors and engineers, Vice chancellor to retired teachers, and scientists to Swamis.
The diversity in number of presenters itself displayed the immensity of the event.
11 Swamis, 19 Swaminis , 130 Brahmacharies , 181 Bramacharinies, 160 Internationals, 32 Kids, 12 Families, 16 Couples, and the rest were devotees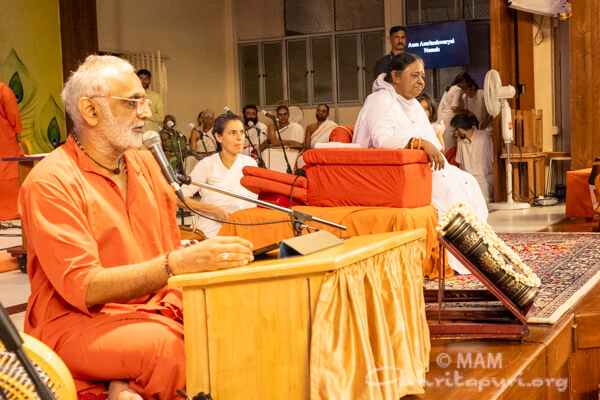 This beautiful inclusivity of participants, ranging from Pandits (scholars) to Pamaras (those unfamiliar with the Gita), illustrates Amma's vision that the Gita's teachings are universal and accessible to all. It was a testament to the fact that one need not be a scholar to understand and live by the values of the Bhagavad Gita.
This global event saw participants and viewers from 25 different countries, representing diverse races, ethnicities, and backgrounds. From New Zealand to Canada, Ukraine to Kenya, Turkey to Singapore, USA to Europe, and Japan to Chile, people from all corners of the world came forward to explain verses from the Bhagavad Gita in depth including ways by which we can practice those teachings in our daily lives.
One of the unique aspects of this Yajna was the variety of presentation styles. While most chose to deliver talks, some explained verses poetically, while others brought out the essence of their chosen verses through monologues or musical renditions with guitars. This diverse approach added an extra layer of richness to the Yajna.
Yet another inspiring factor was the dedication people had to speak when the day of their verse arrived. This included someone who had just been discharged from the ICU, someone with a high fever, someone who postponed chemotherapy sessions, and many who in the end had to deliver their satsangs online. There was even one presenter who stepped in day-of with only five hours to prepare, as the scheduled speaker got COVID.
The Gita Yajna was not just a series of talks; it was a catalyst for transformation. Participants shared their personal growth, newfound faith, and a deeper understanding of the Gita's teachings. It fostered a sense of unity and connection among participants, creating a global spiritual community that transcended borders. The Yajna inspired people to delve deeper into the scripture which in turn brought about realizations and shifts in perspective.
One of the participants, Sharon Jones from the UK, sums up the experience of many of the Gita Yajna participants – "It gave me a realisation that the Bhagavad Gita and Amrita Gita are synonymous. Amma's life is an embodiment of the teachings. This has deepened my faith in and commitment to spiritual practices,"
Participants like Dayakar from Belgium and Atmaram from France shared how the Yajna has played a pivotal role in strengthening their faith in Amma and commitment to their spiritual practices.
Meanwhile Geetha Sriram from the US and Maya Anilkumar Menon from India share how the Yajna has led to personal growth, including enhanced confidence, a reduction in negative actions, and a heightened awareness of dharma and adharma.
Bindu Krishnakumar from India recognises the transformation in her relationship with Amma – from a mother-child relationship to a Guru-Shishya bhava.
Participants like Swathi Krishna from India, Ragini Ramalingam from the US and Anadi Simhon from Mexico are among those who are bridging the gap between ancient wisdom and modern life.
They are applying the Gita's teachings in their daily routines.
Many people like Varenya from Spain expressed that this Yajna has fostered a sense of unity and connection among participants, creating a feeling of belonging to a global spiritual community.
The Gita Yajna stands as a testament to the enduring relevance and transformative power of the Bhagavad Gita. It is a reminder that the wisdom of the ancient Rishis continues to guide and transform lives even in our modern world.
Amma's presence and guidance were evident throughout the Yajna. She chose each verse for every participant, creating a profound connection between the speakers and the verses they expounded. Her encouragement and blessings flowed freely. During this Yajna each speaker was blessed and fortunate to receive their very own and special Gitopadesha From Sri Krishna Herself. Amma added, corrected and expanded on many aspects. At times, Amma elucidated more than the speakers themselves.
"The Bhagavad Gita is a wake-up call. It's a song that wakes us up from our deep slumber. It's like a cow chewing the cud. The cow eats the grass and then it lies down somewhere. Then it brings it back to its mouth, chews it well, and then swallows it," explained Amma. "In a similar manner, whatever information we have gathered from the scriptures needs to be contemplated, meditated upon, and then reflected. That was one of the purposes of this challenge. To cultivate such habits in my children."
"We cannot stop it here, because only through satsang will we attain the state of nissangatvam—non-attachment. And only by non-attachment will we reach nischala tattvam, stillness of mind." said Amma.
"Always try to move forward in life seeing this is not mine. This is not I. This is not I. This is not I. The net, neti, neti path. I am not this. I am the ultimate. I am the pure consciousness. People are egoistic about their knowledge, but they do not have the knowledge about their own ego."
Amma emphasized this does not mean we reject the world before our eyes. She explained, "Non-attachment should not be misinterpreted as I have no love for others. That is not what it means. Instead, you see others as an extension of your own self. Everything becomes 'I'. Not just the individual. Not just this body.
"All over the world, the common expression is 'I love you'. There is a gap between 'I' and 'you'. 'I' am there 'you' are there and love is also separate. Instead, envision 'I am love'. So the 'I' and 'you' should die. Then only we will realise our true nature is love.
"May we be able to forgive and correct; not others, but ourselves. Our own mistakes. Our own shortcomings. Those are the two most important things that we should do. Forgive and correct ourselves."
18 participants representing all age groups offered Dakshina to the Acharya – Amma. The auspicious gathering of minds and hearts concluded with a performance of Gita Arati before Amma. Devotees arrived with items to dress her as Sri Krishna, including a yellow silk garment, a peacock feather, a crown, and a flute.
As Swami Dhyanamritananda waved the Arati lamp, Amma's message that the Gita is for one and all reverberated in her expression.
Reflecting on this extraordinary Yajna, it becomes clear that it was a unique and unparalleled event, one that only Amma could initiate and conclude so beautifully. The Gita Yajna may have ended, but the teachings of the Gita live on. They will continue to inspire spiritual growth, personal transformation, and unity among people worldwide.
-Sakshi