18-20 October, Winterthur, Switzerland – Europe Yatra 2019
After Amma's arrival at Winterthur, she was given a warm and rousing welcome by the local volunteers and well-wishers. Amma served a prasad dinner to the local volunteers as well as the tour group. This was followed by a group meditation for world peace and a joyful bhajan session concluding with Bandalo Bandalo.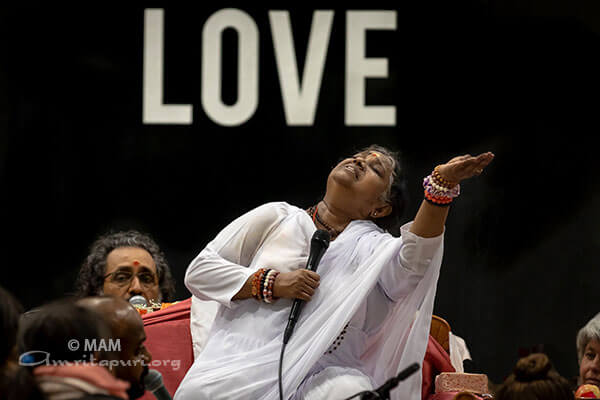 Across three days in Winterthur, the Eulach Hallen Sports Center was overflowing with devotees from all parts of Switzerland. Amma was welcomed to Switzerland by Swiss Member of Parliament Nik Guger, and the Indian Ambassador to the United Nations Rajiv Chander; and renowned actress and former Miss Switzerland, Melanie Winiger.
Speaking on the occasion, MP Guger said, "I wish us all to be able to honor each other, to build bridges and to give everyone the right to live in a peaceful world. If we follow Amma's advice, we can achieve that."
Ambassador Chander noted that the United Nations is approaching its 75th anniversary, and harked back to Amma's address to the UN General Assembly on its 50th anniversary in 1995: "I would recommend to all of you, Amma's address to the 50 th anniversary of the United Nations in 1995. And the analysis that she gave of what was wrong with the world and how to heal ourselves is still very, very relevant today. In fact, in 1995 she said that the world is like a burning volcano and that life is like a battlefield. It is because human beings' ego and self-interest was making relationships into a business. And her advice was that if we look inward and you discover the humanity within and that is what unites all of us and that is what can lead us to happiness and peace in the world. So today we thank for her continued presence and blessings and we need you to make the world a much better place and to embrace it in peace and harmony."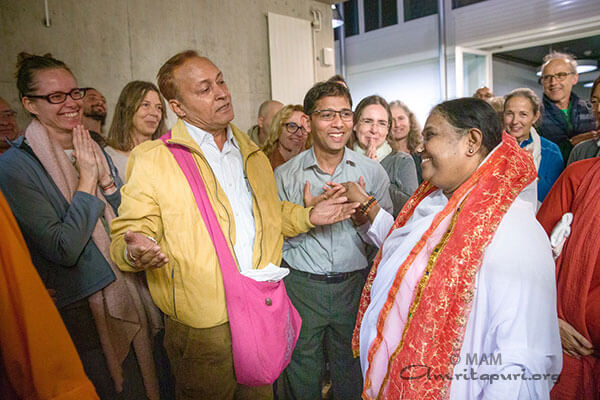 In her talk, Amma encouraged the assembled crowd to always remember Nature and natural laws as they proceed through life. "Today, we give the most importance and respect to science and technology. These are certainly important, but we need to give equal importance to mother nature, culture and our fellow living beings. When we fail to give equal importance to all these factors, society becomes like a chair balancing with only three legs. It may look like there is no problem with the chair. But, what happens when we sit on it? It will immediately fall, unable to bear our weight. A song is not enjoyable when it is off beat and out of tune. Nature forms the fundamental rhythm and melody of life. We won't be able to experience peace and happiness if our lives fail to adhere to the laws of nature. Just as we obey man-made laws, we need to follow nature's rules and regulations, perhaps even more attentively. What are nature's laws? They are unity, sacrifice and selflessness."
-Dass